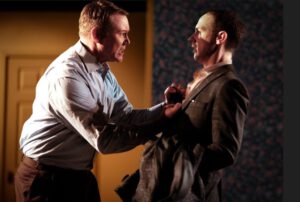 Alexi Kay Campbell's debut play "The Pride" premiered on January 26, 2023, at the ETH. The author won the famous Olivier Award as well as the Critic's Circle Award for Most Promising Playwright and the John Whiting Award for Best New Play. Indeed, more praise is not possible. Alexi Kay Campbell was born in Athens/Greece to a Greek father and a British mother. Once an actor, he later started writing. His very successful plays include "The Pride", "Apologia" and "Sunset at the Villa Thalia."
The plot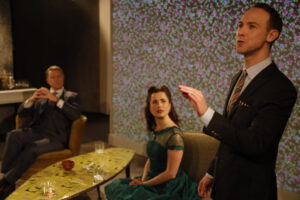 London in 1958. We meet Sylvia and Philip, a young middle-class couple, in their flat which is furnished in the bad taste of that period: floral wallpaper in shrill colours, cocktail chair and kidney-shaped table in a nearly bare living-room. Both are expecting Oliver (Daniel Cane), a childrens' book author whose work is illustrated by Sylvia (Lisa O'Connor). While drinks are being served Philip (Mat Betteridge) and Oliver engage in small talk over their professional lives. While Philip confesses that selling real estate is nothing he really likes to do and that he secretly dreams of emigrating, well-travelled Oliver recounts a personal epiphany in Delphi that foretold a future life, totally free from anxiety and fear. There is something in the air – a whiff of sexual tension between the two men that does not escape Sylvia's attention. She always suspected Oliver to be homosexual although she never mentioned it to him. We must not forget that homosexual relations were strictly forbidden by law in the olden times that were anything but golden. Although bourgeois Philip tries hard to resist his hitherto hidden preference for having sex with a man he finally succumbs to Oliver's charm. Both become lovers. Sylvia feels unhappy but decides to put up with the situation. She loves both men and does not want to lose them.
Change of scene. 2008 – exactly fifty years later things have completely changed. Homosexuality is no longer a tabu. Everybody can make love to any partner of his choice without any fear of being punished by the law for sexual offence. Oliver is still addicted to anonymous sex – the most humiliating the better. He even hires a jobless man clad in a Nazi uniform (Matt Hastings) who makes him lick his boots.
Back to the "right" track?
We jump back to the fifties and find Philip in a doctor's study. The man in white is trying to put his patient back on the normal, the "right" track. His therapy is brutal, to say the least. Philip must spend hours in a prison-like dark room where he is given injections that make him vomit for hours. However, the therapy does not work. In 2008 we meet Philip again in a publisher's office. Peter. The owner of a company publishing pornographic magazines, offers him 4,000 pounds when he writes an essay encouraging heterosexual men to embark on a trip into queer circles. Peter thinks that Philip has all the experience to do this job.
The Pride Party
The final scene. We find the three friends – Sylvia, Philip and Oliver – in one of London's lush green parks, celebrating "The Pride" Party. Everything is blooming, birds are twittering in bushes and trees and everybody seems to be happy. Romance pure – at least at first sight. Philip and Oliver are on friendly terms again and Sylvia talks about Tony, her new boyfriend. All of a sudden Sylvia disappears. After a short while she comes back carrying a small suitcase and dressed in her nightie, a relic of the fifties. It is quite obvious that she will leave for good. From a distance she whispers: "It will be all right, it will be all right, it will be all right." Curtain
The audience is flappergasted. Who on earth would have expected such an abrupt unpromising end of the play since everything seemed to be in perfect order?
Campbell's "The Pride" offers an insight into the world of homosexual life in pre-liberation times with all its guilt and shame felt by those who were not normal or even pervert in the eyes of our former puritanical society. Just think of all those men who had to hide their sexual orientation. Oscar Wilde, one of the greatest writers that Britain ever knew, was sentenced to hard labour. A few years later he died in poverty. Peter Tschaikowsky committed suicide for fear that his homosexuality would be revealed.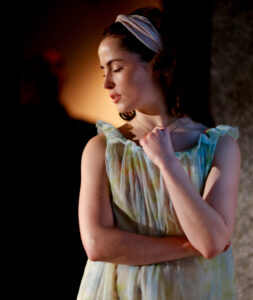 While some scenes are great, even humorous with sparkling dialogue, others are utterly disturbing. This refers to the argument between Philip and Oliver that ends in Oliver's raping Philip in his apartment. The other horror comes along with the "doctor" who orders a nurse in his clinic to lock Philip in a windowless room where he is administered several injections to make him vomit for hours on end. Psychiatrists invented this obscene therapy to cure homosexual men from their "vice." As far as we know that method never really worked. Fortunately for the men who just wanted to be themselves without anybody telling them whom they were allowed to make love to.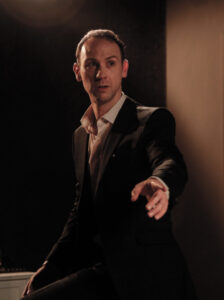 Attention: The vocabulary used is not meant for the ears of ladies and gentlemen who prefer toff language. Who ever heard anybody of that highbrow class say: "Lick my dick?" The words frequently used in the play are "fuck" and "fucking". Since it is also often used by Germans, it certainly only hurts the feelings of very few people. Fuck!
Conclusion: A great performance. A big hand for the four actors on the stage and director Paul Glaser who made Mr. Campbell's play a success on the Mundsburg stage.
Last performance of "The Pride" March 25, 2023. Tickets under phone number 040-227 70 89 or online under www.englishtheatre.de
Next premiere: "The Who & The What" by Ayad Akhtar, on April 6, 2023
Photos: Stefan Kock