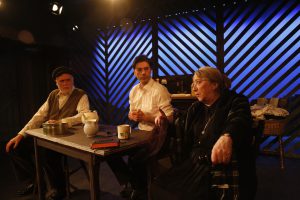 After the breath-taking parody "The 39 Steps", which ran until the end of January, the English Theatre of Hamburg now presents the much acclaimed bitter-sweet comedy "Outside Mullingar." According to an American critic this heart-warming play is John Patrick Shanley's best work since " Doubt." It is up to you, dear spectator, to agree or disagree with this statement of a real theatre aficionado after you have seen the play directed by Clifford Dean.
A place in rural Ireland
Mullingar is not a fictional place but the capital of County Westmeath which is part of the Irish Midlands region. It features an impressive cathedral and some other monuments that are worth being visited. We suppose that John Patrick Shanley once came along and fell in love with the lush green landscape and rolling hills which inspired him to set his romantic play in the rural region outside Mullingar.
Rosemary Muldoon and Anthony Reilly grew up on two neighbouring farms. As early as at the age of six vivacious Rosemary fell in love with Anthony who was too shy to see Rosie's deep affection for him. Anthony's heart once broke when his great love Fiona left him for another man. Being extremely self-conscious he feared another disappointment and dared not open his heart to another woman.
Forty years later both are still living on their family farms – practically door to door – instead of together in the same house. When a feud over a strip of land breaks out between the Reillys and the Muldoons, the chances for a late fairy tale end for Rosie and Anthony seem to tend towards zero. Will both eventually find a way for a happy future?
Characters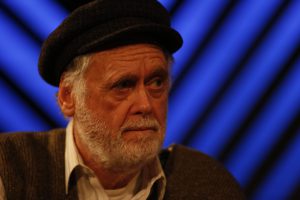 Let us briefly introduce the four characters of the play to you: Tony Reilly, the 75 year old big boss and authoritarian father of Anthony does not think much of his over-sensitive son. He is keen on keeping his farm in the family after his death. Tony, a real farmer, has a strange sense of humour and could not care less about other people's feelings.
Anthony Reilly, Tony's offspring, is already 42, but still lives on his father's farm. Unlike Tony, he is not particularly interested in raising cattle and sheep.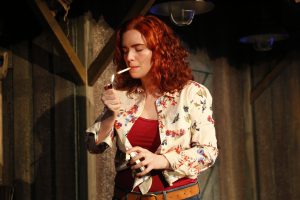 Rosemary Muldoon is an attractive headstrong woman who has been working on her parents' farm since early childhood. Now, as an "old maid" at the age of 36 she is still waiting for Anthony to declare his love to her.
Aoife Muldoon, Rosemary's mother, is a strong pragmatic woman. Recently widowed at the age of 70, her main drive is to secure her daughter's future. Her whole adult life she and her husband Chris Muldoon have lived next door to the Reillys.
Tony, Anthony and the American nephew
In the first act we meet Tony and Anthony in the Reilly's cozy yet a bit untidy kitchen when Aoife Muldoon arrives with daughter Rosemary on her heels. She is the spitting image of the old Queen Victoria, clad in black silk and walking with a cane. She has just returned from her husband's funeral and now enjoys a cup of tea with Tony an Anthony. Tony being absolutely destitute of tact, states that a wife who has lost her husband will follow soon: "You'll be dead in a year." Anthony who is shocked by his father's harsh words quickly intervenes: "She will not." But Aoife who is obviously cut from the same cloth as Tony affirms coolly that Tony is right and she will be dead in a year. "In half a year." Tony must always have the last word. But Aoife has not come to Tony's house to waist her time on trivia. Being a practical woman, she wants to know whether Tony will hand over his farm to Anthony after his demise as she intends to sign over the Muldoon's farm to Rosemary. But Tony has not made up his mind yet and argues that Anthony is not a real Reilly but takes more after his mother's side of the family, the Kellys. In his opinion he is not the right man for the job on the farm since he does not really love the land and the work on it. Tony prefers to sign over his farm to an American nephew rather than leave it to his son. However, he is not entitled to sell the land. Chris Muldoon's will in which he handed over the plot of land to his daughter Rosemary blocks a sale. For that reason, Tony does not have a say in the matter. It is solely a matter between Rosemary and Anthony.
As time goes by
Years later when Aoife and Tony have long passed away, we are invited into Rosemary's pretty drawing-room where she receives Anthony. She is now in her mid-thirties, more attractive than ever and still waiting for Anthony to declare his love to her. The odds are good. But will Anthony overcome his shyness and make the first step. Wait and see. The end of the play will surprise you.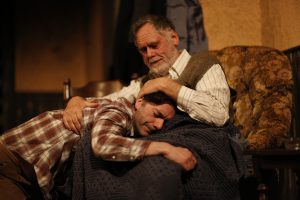 Conclusion: This "farmers' tale" is as amusing as dramatic. A love story in which a man and a woman have to wait half their lives to find each other. We all know the truism that it is never too late to fall in love. While old stubborn Tony Reilly hindered the relationship between Rosemary and his son, Aoife always thought Anthony to be the perfect match for her daughter. As a very pragmatic person she considered two farms united better than a single one. What a clever woman whose ambitious plans proved right in the end.
Dear spectator, look forward to meeting Nora Connolly as witty, snappish Aoife Muldoon, Seamus Newham playing sly, feisty Tony Reilly, pretty red-haired Catherine Deevy in the role of vivacious headstrong Rosemary Muldoon and last but not least Brian Tynan as shy, introverted Anthony Reilly. A great performance with four Irish actors speaking their native idiom.
No accounting for taste
While Charles Isherwood for the New York Times praised John Patrick Shanley's lyrical writing, Fintan O'Toole of the Irish Times wrote that for him "Outside Mullingar" was "mystifyingly awful" and "beyond the edge of awfulness." The critic of "The Guardian" joined him in describing the play as an "overwrought comic romance." What about the irresistible charm of the play, dear critics? It seems that both of you had a bad day when typing your reviews. After all – there's no accounting for taste.
Final performance of "Outside Mullingar" on April 9, 2022. Tickets under phone number 040 – 227 70 89 or online under www.englishtheatre.de
Next premiere: "Don't misunderstand me", comedy by Patrick Cargill, on April 21, 2022
(Photos: Stefan Kock)