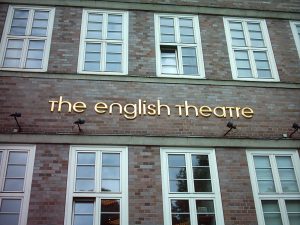 … how disappointing for all of us that the premiere of John Patrick Shanley's comedy "Outside Mulligar" could not take place on April 23, as originally scheduled. The reason was the worldwide lockdown due to the Corona crisis.
Most unfortunately, we do not know yet on which date the theatre will get back to normal and reopen its doors to the public. However, dear aficionado of the TET, you may be sure that the crew of your beloved stage is not sleeping. All of them are busy trying to find a way out of this dilemma by planning the next premiere as soon as the lockdown has been lifted by the government. We shall keep you informed about any new development. Promised.
No doubt, The English theatre is a real asset for Hamburg and its citizens. By the way, for some of them London is nearer to their hearts than Berlin, the German capital. For this reason, it is a must for them to learn or improve their knowledge of English the best way possible. And here the TET comes in, since by buying a ticket the spectator learns English, the lingua franca of our time, while sitting comfortably in the theatre and listening to the actors performing on the stage.
Honestly, could you imagine anything more relaxing than this way of playful learning? What's more, the theatre offers special performances for school children, students and their teachers, accompanied by excellent learning material. These matinees have become very popular in schools in and outside Hamburg.
Dear friends of the TET, please keep your fingers crossed and pray for an early reopening of the theatre. We look forward to seeing you again at our next premiere. As already promised above, we hall keep you posted. For the time being, we say goodbye wishing you all the best. Stay healthy and try to avoid any risk.
Best regards,
Uta Buhr, Vice President DAP and great fan of The English Theatre of Hamburg