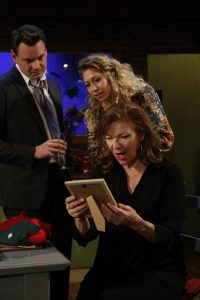 What a stirring play, written by the American author Alexi Kaye Campbell, born to a British mother and a Greek father, who in "Apolgia" describes a disastrous family reunion in a cosy cottage in the English countryside. Kristin Miller, a renowned art historian in her sixties, is expecting some guests to celebrate her birthday. Although her two sons whom she has not seen for a long time are expected to join the rest of the party, Kristin (excellent and very passionate – Julia Righton) seems to be in a depressed mood. Who will be the first one of her guests to wish her a very happy birthday and many happy returns? Before we go on, let us take a look at Kristin's biography.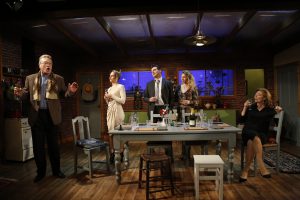 As an eminent and successful art historian, who at the same time is a fanatic feminist and anti-capitalist, Kristin never saw fulfilment in family life and motherhood. In spite of her belief in total independence she gave birth to two boys – Peter and Simon – whom she abandoned when they were very young and left them with their father. As a young woman she followed her politics and vocation, storming Parisian barricades and moving to Florence to live a life according to her own taste. Now after having left her wild years behind her, she has come to terms and written her biography without mentioning her sons with a single word. What a scandal! An over-ambitioned selfish woman has the cheek to concentrate only on herself and ignore her offspring without the slightest remorse.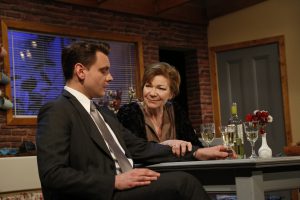 Peter and his pretty American girlfriend Trudi (Annelise Bianchini – sweet and charming) are the first ones to arrive at Kristin's party. While Peter is very reserved toward his mother who for him is a "bloody nightmare", the young woman greets Kristin very warmly and hands her a most precious present. It is an African tribal mask which Kristin being a connoisseur of artefacts from other cultures accepts enthusiastically. When Claire (Michelle Fahrenheim – a mixture of naivety and shrewdness) Simon's fiancée, arrives, Kristin can barely hide her disapproval of the extravagant young woman who calls herself an "actress" although she mostly appears in sitcoms and other soap operas. Good lord, that girl in her 700 pound designer dress is indeed not Kristin's cup of tea. In a way she also despises Peter, the capitalist, who makes a lot of money in the City of London. In Kristin's opinion both are "takers" and not "givers", the latter ones being those who benefit society. In addition, she is disturbed when she hears that Peter attends bible lessons with Trudi who is a devoted Christian. As a life-long confirmed atheist, she is unable to understand other people's religious beliefs. By the way, where is Simon, Kristin's favourite son who failed to keep a job and recently suffered a mental breakdown? When by accident Kristin picks up Claire's mobile and learns that the caller is waiting for Claire to spend the night with her, she becomes furious. Now it becomes clear that that girl is a bitch cheating on her son. Really – it could always be worse. The only thing that seems to keep the party together are bottles of Champaign that are lavishly consumed by the guests, While the mood in the kitchen is heated, only Hugh (Michael Garland – sophisticated) , an old friend of Kristin's and comrade in the olden golden revolutionary days, keeps his calm. Sitting comfortably in a corner of the room, he observes the whole scene and seems amused about the exited dialogue. He sympathises with her sons and understands their resentment toward her. On the other hand he is loyal to Kristin but does not share her aggressive attitude. Why doesn't he tell her to remain silent according to the wise Latin dictum: Si tacuisses, philosophus mansisses. When asked about her book, Kristin insists that the title "Apologia" is not be confounded with apology. There is obviously nothing she feels sorry for. She explains that the Greek word apologia stands for a formal written defence of one's opinions or conduct. No further comment needed.
When Kristin's guests depart the next day after breakfast the smoke of the night before has cleared and everybody seems to be quite at ease. Only Kristin looks extremely distressed und unhappy.
We do congratulate the five excellent actors on stage and director Paul Glaser for this overwhelming performance. An extra praise goes to Luke Jenkins who mastered two extremely different parts, that of Peter, the tough businessman, and his brother, the loser Simon. Many thanks to all of you.
"Apologia" is an extremely disturbing play, a political and family drama set in the rural environment of the English countryside. It still is a great box-office success in the Anglophone countries, particularly in Britain and the United States of America. The critics are full of praise for Campbell's "Apologia", a play which followed his much acclaimed award-winning debut "The Pride." An admirer of the author writes: "As the follow-up to Alexi Kaye Campbell's 'The Pride' comes this play about the conflicting demands of fame and family. A disastrous family reunion is the occasion for a sharp and perceptive look at what has happened to the children of '60s' idealists." And a London critic comments:" 'Apologia' frames that argument in feminist terms, pitting the gains made by women like Kristin against the loss of traditional families. Both her sons begrudge their absentee mother, who lost custody of them to their father , and Simon, in particular, is held back by events of the past. That the point only lands late on, however, means the play suddenly opens up like a clearing sky."
While in most countries "Apologia" is seen as a drama or even a tragedy, an Italian critic talks of the play as a comedy. There is just no accounting for different mentalities…
(Photos: Stefan Kock)
"Final performance of "Apologia" on April 11, 2020
Tickets under phone number 040 – 227 70 89, online booking under www.englishtheatre.de
Next premiere: "Outside Mulligar", a comedy by John Patrick Shanley,
on April 25,2020