By Uta Buhr
This hilarious comedy by the British playwright Derek Benfield is just the ideal entertainment on a grey November evening and certainly the right thing for Christmas or New Year's Eve.
The fan club of the small but very nice stage will greatly enjoy this play which the author chose to dub "farce" instead of comedy. And a farce it is in fact since the plot is so commonplace and yet extremely funny. In the proper sense of the word touch and go is an aeronautic term, meaning the start of a plane. However, in the figurative sense it means risky or uncertain. That's it: two couples, a fake Red Cross Nurse and  coq au vin all combine to a really risky adventure!
About the play
The story is as old as mankind itself.   Hilary and Brian, an affluent couple leading a comfortable life somewhere in London, is fed up with each other. Sixteen years of marriage! Who on earth can bear such a long period of togetherness without ever dreaming of having an affair with another attractive partner! Therefore Hilary can barely hide her pleasure when she learns that her husband starts jogging in the nearby park in order to keep fit. She even buys a shining red tracksuit for Brian to encourage him to "exercise" every Wednesday. However, instead of jogging, her husband meets a young pretty girl named Wendy. Both greatly enjoy their "jour fixe" in the apartment of Brian's best friend George. On the other hand, Hilary entertains George in her and Brian's home on the same day.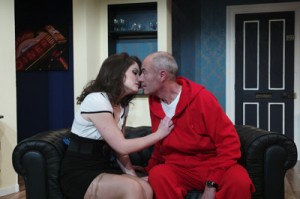 This extramarital arrangement has already been running for several months and turns out to be a most satisfactory one. However, as always happens in farcical comedies, somebody turns up out of the blue, and the whole beautiful arrangement goes bust. In this case the spoilsport is Jessica, George's wife, a designer of international fame, who returns from a trip to the United States a couple of days earlier than expected. Those caught in adultery are deeply shocked and try to save their faces by telling the most ridiculous lies. The only honest person in the round is Wendy, the young sex-hungry girl, who confesses to be Brian's lover and not a Red Cross nurse, as reported by Brian.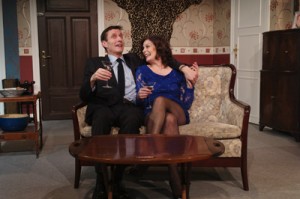 The play moves along at a fast pace, accompanied by peals of laughter and applause. When George robs on his belly through the living-room in search of a treacherous dressing-gown, the audience nearly explodes. The only one who seems to understand everyone's shortcomings is Jessica who invites the whole lot to her dinner-party. Are they having again the "regular" coq au vin that was served by Wendy to Brian and by Hilary to George? Glasses filled with Scotch and Martini cocktails are clinking and the unfaithful ones are showing first signs of remorse. While the party is in full swing, the phone wrings and is picked up by Jessica who seems very happy to receive a call from her secret lover…
The audience thanked the five wonderful actors by a standing ovation. Four of them are already known to the regular visitors of the theatre – James Walmsley (Brian), Debbe Radcliffe (Hilary), Stephen Chance (George), and Yvonne Delhaye (Jessica). The only new face belonged to Amy Newton who played Wendy.
About the author
Most unfortunately we cannot expect any new comedies written by British playwright Derek Benfield, since he died in March 2009 at the age of 83. His writing was most prolific, including "Caught on the Hop", "Bedside Manners", "Look Who's Talking", "Funny Business", and "Touch and Go." It would be fine if the English Theatre put one of these plays on stage – preferably with the five actors who are making "Touch and Go" such a great  success.
We advise you to book tickets as soon as possible since the play is very popular:
Phone number: 040 – 227 70 89 – online booking under: www.englishtheatre.de
Last performance of "Touch and Go" on February 9, 2013
Next premiere on February 21, 2013: "The Importance of Being Earnest" by Oscar Wilde