By Uta Buhr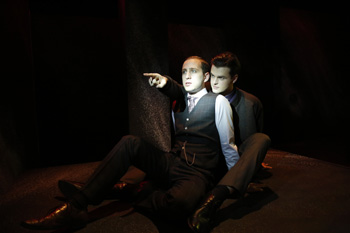 No doubt, this musical written and composed by Stephen Dolginoff is the ultimate kick for all those who go for suspense! After its premiere the New York Observer titled enthusiastically
"A brilliant, unforgettable musical. Sends chills down your spine." The story behind the plot is an unbelievable crime committed in Chicago in 1924 by two 19-year old extremely intelligent law students. People in Chicago were shocked, shaken down to their souls by this "crime of the century", the more so as both criminals came from wealthy and highly respected Jewish families.
But let us start at the beginning. Nathan Leopold and Richard Loeb have been friends for quite a long time. Obviously Nathan is deeply in love with Richard and craves for his affection that, however, is only granted when Nathan submits to everything his lover wants him to do. Richard Loeb, an arrogant cold-hearted man who feels superior to other people and despises weakness, feels that robbery and arson are no longer enough to satisfy his hunger for criminal actions. He tries to convince Nathan that murder could give them the ultimate kick. "Let's commit the perfect crime," he suggests, "nobody will ever know that we did it." Nathan hesitates at first, but eventually succumbs to Richard's embraces. They decide to kidnap 14-year old Bobby Franks, kill the child and demand a big ransom from his parents telling them that they must pay immediately if they want to get their son back alive.
Richard lures Bobby into his shiny car, strangles him and gives order to Nathan to throw the corpse into a hole near the railroad track. Most unfortunately for both young men Nathan loses his glasses, thus making it easy for the Chicago Police to pin him down. Nathan and Richard are arrested on the spot. Thanks to the best lawyer money can buy they are spared the rope and are sentenced to 99 years imprisonment.
The next scene gives us an insight into Joliet Prison in Chicago in the year 1958.
After thirty-four years in jail Nathan Leopold is sitting in the hearing room of a prison parole board. Now at the age of 54 he is appealing for the fifth time to the parole board for his release. He explains that he assisted Richard in committing the crime because of the obsessive passion he felt for handsome and sexy Richard. He even had to sign a contract in his own blood swearing Richard his unconditional loyalty for the rest of his life. Nathan admits that he dropped his glasses on purpose since the only thing he wanted more than anything was to be close to Richard. He was dreaming of sharing a prison-cell with him. However, Richard was stabbed to death under the shower by a fellow prisoner in 1936, and thus Nathan's dream never came true. After having confessed the murder of poor Bobby Franks in detail, the parole board people agree that Nathan Leopold was himself a victim of Richard Loeb and decide to set him free. Why waste the tax payers' money any longer for Nathan Leopold's upkeep after he had provided the board with the final piece of the puzzle. And after all, the prison is running out of space. The cells are needed for new prisoners. Nathan is a free man and willing to change his life. After having collected his personal items – a suit, his watch with the gold chain and a package of cigarettes that must have become stale in over thirty years, he feels fit to start a new better live.
Curtain and standing ovation for two fine actors that are also great singers: Guy Woolf as Nathan and Sebastian Hill in the role of Richard. Our compliments also go to Glev Pavlov for accompanying their recital on the piano.
The Leopold & Loeb Story not only inspired Stephen Dolganoff to compose his musical. In 1948 Alfred Hitchcock used the abominable crime for his film "Rope", featuring James Steward in one of his most remarkable parts. The story also fascinated Austrian film maker Michael Haneke. "Funny Games" is a shocking film about two young men from wealthy families who kill a whole family just for the thrill of it.
Although born and brought up in America's Deep South, Stephen Dolginoff, the gifted playwright/composer settled down quite early in New York City. He won a good many awards for his work for the theatre. His oeuvre includes musicals such as "Beauty Sleep", "One Foot out of the Door" and last but not least the musical suspense thriller "Flames."
Final performance of "Thrill Me" on June 27, 2015. Tickets under telephone number
040 – 227 70 89, online booking under www.english-theatre.de
Next premiere on September 9, 2015, after the theatre holiday: "Fat Pig" by Neil Labute