By Uta Buhr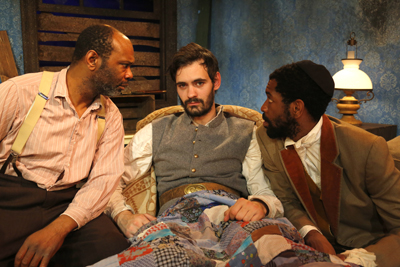 "The audacious work marks the debut of a fresh talent" titled a renowned critic of the Associated Press. "Lopez's drama has undeniable power," wrote "Time Out New York's" Adam Feldman enthusiastically after "The Whipping Man" premiered at the Manhattan Theatre Club in 2011. In fact, Matthew Lopez's drama is a gripping play using sharply drawn characters and rich metaphor. It wrestles with typically American issues such as race, religion and responsibility.
About the Play:
We are writing the year 1865. The War of Secession – the American Civil War – has just ended and many disillusioned Confederate soldiers return to their once stately homes that now sit in ruins. Confederate Officer Caleb DeLeon is one of those young men who were badly wounded on the battle-field and now find their residences in a most deplorable state. His family has left Richmond/Virginia in a hurry for fear of Yankee soldiers roaming the country. Amidst the chaos – broken furniture, barred windows and dirt – only two people have survived: the family's black man-servants Simon and John. Both immediately care for Caleb, their old "master", and save his life by amputating his right leg with a saw that – before using it – Simon disinfects in old whiskey, a left-over from the olden golden days in the Deep South. The DeLeons being a Jewish family, educated their servants in their faith and made them observe the rules and rites of their religion. Particularly Simon has become a deeply religious man who insists on celebrating Passover in the traditional way with candles, unleavened bread and wine. While the celebration starts in great harmony, the three men by and by uncover a tangle of secrets and start arguing.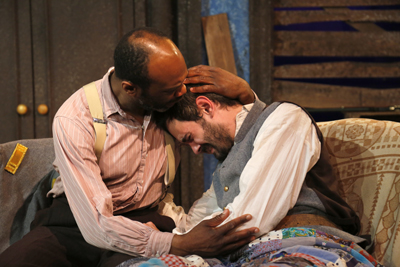 John, the unruly servant, who even dared learn to read and write, passing on his knowledge to a good many of his black sisters and brothers at that, was quite often brought to the "whipping man." That monster strapped him to a plank and tortured him with his whip. "The walls of his hut were covered with blood", John shouts and shows the scars on his body. Young Caleb gave him the greatest humiliation in his whole life when he asked the whipping man to do the job for him. "He hit me hard, and I was bleeding", John remembers and breaks out in tears.
Also Simon was punished for the slightest shortcomings. But being a religious man, he forgave his master. However, when he learns that Mr. DeLeon sold his beloved wife Elizabeth and their daughter Sarah to another white landowner in the neighbourhood, he becomes furious. His master was keen on getting rid of Sarah who was pregnant with a baby fathered by his son Caleb. Simon forgets all he was taught about loyalty and responsibility for Caleb and the rest of the DeLeon family and leaves the house in anger. The only thing he is interested in is to find his wife and daughter, wherever they may be. Caleb and John are left alone in the big house – totally helpless. What did Simon, the only self-possessed person in the play, tell John a day before: "You are free now. So choose your own way." Responsibility that comes along with personal freedom is the main theme in this compelling play.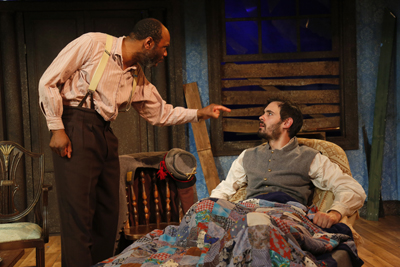 Some Hamburg critics already congratulated director Clifford Dean on staging "The Whipping Man." This gripping drama is a challenge for all those on and behind the stage. Many thanks to Dean and the three wonderful British actors Rich Dolphin (Caleb), Declan Wilson (Simon) and Jonathan Nyati (John) for their outstanding performance.
Last but not least a few words about the author:
Matthew Lopez, 33 years of age and brought up in Florida, was born to a Puerto Rican father and a Russian-Polish mother, both teachers. In spite of his young age he already counts among the most successful American playwrights. A number of well-known critics in all parts of the United States reacted with enthusiasm to "The Whipping Man", Lopez's debut on stage. They praised the freshness of his dialogue in this "tautly-written drama." Other plays written by him include "The Sentinels", "Zoey's Perfect Wedding" and "The Legend auf Georgia."
Final performance of "The Whipping Man" on November 8, 2014
Tickets under phone number 040 – 227 70 89, online booking under
www.english-theatre.de
Next premiere: "Anyone for Breakfast?, a comedy by Derek Benfield on November 20, 2014