by Uta Buhr
Photos: Stefan Kock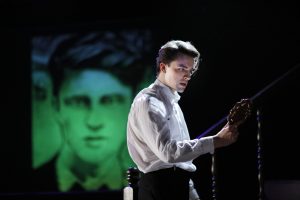 Standing ovation for this exceptional performance of Oscar Wilde's Dorian Gray that just premiered at the TET. Paul Glaser and his "crew" consisting of four young actors won the hearts of the audience from the very beginning. If you expect a lavish Victorian interior with fancy objects and crystal chandeliers, you will be surprised to find a setting reduced to a staircase leading to an attic and a few pieces of furniture such as an ottoman and some chairs. You virtually feel and smell late Victorian London in all its different facets, including the fog, once called pea soup, that still in the early sixties of the last century was so compact that you only heard your neighbour's step when he or she nearly touched you. Darkness and sombre music create an eerie atmosphere and remind you of Jack the Ripper who made Whitehall virtually a "no go area" at the time. Sure enough, dear spectator, the gloomy atmosphere makes the blood run cold in your veins.
The plot: Handsome and innocent Dorian Gray, an offspring of a wealthy English family, has his portrait made by a famous artist named Basil Hallward. During his sittings he meets the immoral aristocrat Lord Henry Wotton who is impressed by Dorian's beauty.
Lord Wotton beguiles his new friend and tells him that beauty is the most important thing in human life and more precious than anything else. Dorian, he finds, should seek pleasure instead of sticking to moral principles whatsoever. Without any scruples Dorian follows Lord Wotton's advice to break with Sybil Vane, a pretty but poor actress, although he had promised marriage to the young woman. Even Sybil's suicide does not impress Dorian. He travels abroad and finds his portrait finished on his return to London. Basil Hallward is very proud of his painting since it shows his model in the prime of youth. Dorian, no doubt is a flawless beauty. In the meantime deeply influenced by his bad spirit Henry Wotton, Dorian is fascinated by his own good looks. His greatest wish is to stay himself forever young. Instead the picture shall age for him. As the years go by, Dorian's friends and acquaintances age, but he is still the same. Only his picture that he hides in the attic of his house, discloses the evil actions of his corruptive life that is filled with long nights in London's opium dens and relationships with criminals and prostitutes.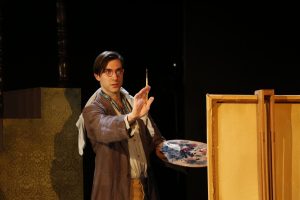 He even commits murder in cold blood. When Basil Hallward dares a glimpse at the portrait he once painted, he is horrified by the sight of it. Dorian does not hesitate to stab him to death. Years go by, and one day Dorian Gray takes his courage in both hands and looks at his picture. He is so shocked that he tries to cut it to pieces. But the picture – his alter ego – hits back and kills him instead. When his servants hear his screams and hurry up the stairs, they find an old ugly man with wrinkles in the face. They only identify him as their master by the rings on his hands. The portrait, however, stands undamaged and show Dorian Gray in his youthful beauty, such as a great artist of his time had once painted him.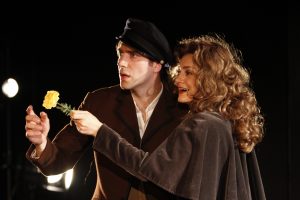 It is not easy to pack this story into a two-hour performance. But it works thanks to four excellent actors. No doubt, Oscar Wilde would have been enthusiastic about Andrew Horton as Dorian Gray, since his appearance and acting technique just fit the part to perfection. The other three actors change without any difficulty from one part into the next. Emily Byrt plays seven roles, be it pretty innocent Sybil Vane, snobbish Lady Agatha or simple Mrs. Leaf. She further jumps from high-brow aristocrat English to a thick Cockney slang and even masters a broad Yorkshire accent. Compliment, Emily, you are great. We could not imagine anyone better in the part of Lord Henry Wotton, the decadent and immoral dandy, than Timothy George. He is also to be seen in other parts, inter alia as Mrs. Vane and Adrian Singleton. Edmund Sage-Green is Basil Hallward, a wonderful counterpart to Henry Wotton, in both appearance and moral standards. Edmund also slips into the costumes of five other persons. He is funny in the role of the Duchess of Harley. Thank you all for an exciting and wonderful evening!
A few words about the author: Oscar Fingal O'Flaherty Wills Wilde was born on October 16, 1854, in Ireland's capital Dublin. The very gifted writer and playwright started a great career in England. His wit and talent made him very quickly the darling auf London Society. He once mocked his British colleagues by claiming that English literature owned its fame to Irish poets like him and a couple of his compatriots. He certainly referred to Jonathan Swift, among others. By the way, George Bernard Shaw expressed the same opinion years later. But this was not the reason why British society Wilde to prison for two years.
Homosexuality and his intimacy with the offspring of a noble family finally broke his neck. Oscar Wilde, the "fallen angel", died in his exile in Paris in 1900 in Paris at the age of 46 –alone and penniless.
Last performance of "The Portrait of Dorian Gray" on April 14, 2018
Tickets under the telephone number 040-227 70 89 or online under www.english-theatre.de
Next premiere: "I love you, you're perfect, now change", a musical by Joe DiPietro and Jimmy Roberts on A