By Uta Buhr
A sensational brand-new production of Oscar Wilde's comedy "The Importance of Being Earnest" at the English Theatre of Hamburg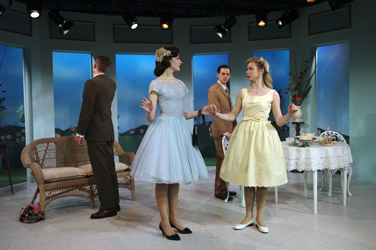 What about the saying that names mean nothing? To Gwendolen Fairfax and Cecily Cardew the name Ernest means everything! Both posh young ladies feel that they can only love and marry a man by the name of Ernest because in their opinion this name promises a pure and serious character. Believe it or not, but the whole plot of Oscar Wilde's "fanciful absurd comedy" is build around this rather common name. Two young gentlemen – Algernon (nickname Algy) and Jack  – also belonging to the British upper class, fall in love with Gwendolen and Cecily and insist on their being baptised Ernest in order to please the ladies. It goes without saying that this little white lie, as they may call it, entails great trouble.
By the way, while Ernest is a male's first name, the adjective earnest stands for seriousness.
Both words are pronounced the same way.
"Bunbury or The Importance of Being Earnest" premiered at the St.-James-Theatre in London in 1895 and proved to be a great success over a long period of time.  As usual, Oscar Wilde criticises the snobbism, idleness and hypocrisy of the British high society. The plot of the play is quite intricate: Algy has invented an invalid friend named Bunbury who resides in the countryside in order to get away once in a while from his life in London. His friend Jack, a rich orphan, on the other hand, escapes from his countryside manor to London, playing the role of his fictional brother Ernest. When Jack falls in love with Algy's cousin Gwendolen and – vice versa – Algy is attracted by the charms of Jack's ward Cecily, both friends hardly know which way to turn. When the young girls learn that they have been betrayed by their admirers, they furiously turn against them. The chaos reaches its peak when Lady Bracknell, Gwendolen's snobbish mother, appears on the scene and is utterly shocked that Jack, the orphan, who does not know anything about the whereabouts of his parents, tells her that he wants to marry her daughter.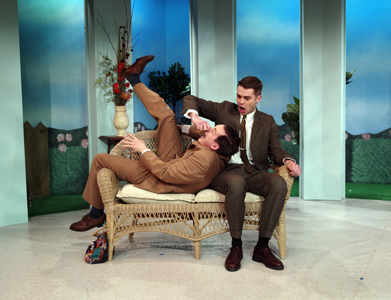 She is also against a liaison of her nephew Algy with Cecily until she is informed by Jack about her high annual income. All parties concerned are at war with each other. The only one who keeps a cool head and the famous British stiff upper lip is butler Merriman who serves tea and scones without showing any emotion concerning the bad behaviour of his superiors. It goes without saying that the play has a happy ending. Jack turns out to be the son of Lady Bracknell's deceased sister and that – surprise, surprise – his real name is Ernest John. What a tragedy that his nanny Miss Prism who indulged in romantic novels, forgot baby Ernest and her manuscripts in a big black handbag at Victoria Station – in the cloakroom at that – twenty-eight years ago. In the end three happy couples stand on the stage: Algy and Cecily, Ernest John – formerly Jack – and Gwendolen as well as Miss Prism, the spinster, who is engaged to marry old dear Revered Chasuble.
Julian Woolford's production represents a great moment at the TET. It is so different from all those productions – German or English – that we have seen so far. He has transferred the plot from 1895, when the comedy first appeared on stage, to the year 1958. Green wallpapers, deep sofas and kidney-shaped tables lead us back to this stuffy but rather comfortable mid-century when no cell telephone disturbed cosy tea parties and computers still were a far cry. The outfits of the two young pretty actresses are just gorgeous – tight waistlines, swinging starched petticoats, funny little hats and elegant handbags reminding us of Jacky Kennedy who was "the" fashion trendsetter at that time. In contrast, Lady Bracknell's clothes are absolutely horrid, her elbow-long gloves ridiculous. Did a senior member of the Royal Family act as model? Honi soit qui mal y pense!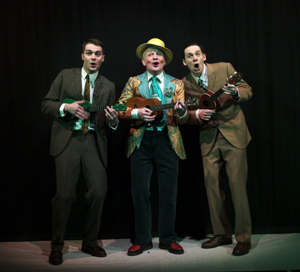 Who would have thought that anybody could possibly top the work of Oscar Wilde! Julian Woolford is able to do so by adding a couple of witty songs performed by the actors – everybody a star in his or her own right –  accompanied by a ukulele, an instrument already played by Marilyn Monroe in Billy Wilder's cult comedy  "Some like it hot." Never had it so good, is the title of the leading song. "The 1950s were a time of change in Britain", explains Julian Woolford. "All of Europe began to rebuild after the post-war austerity in the late 1940s. The sense of fun and optimism about the future makes 1958 the perfect year for setting 'The Importance of Being Earnest'." Well said. No further comment necessary. The performance was perfect – eight wonderful actors giving their best. Two of them even appeared in two different roles. A big hand from the audience and many curtains!
A few words about the author: Oscar Wilde was born in Ireland's capital Dublin, on October 16, 1854. By 1895, the year when "The Importance of Being Earnest" premiered in London, he was already very famous and the darling of London Society. Apart from plays such as "Lady Windermere's Fan" and "An Ideal Husband" he wrote fiction. His novel "The Picture of Dorian Gray" and "The Happy Prince and Other Tales" proved to be great successes worldwide. When his affair with Lord Alfred Douglas, the offspring of an old aristocratic family, became public, Wilde was sent to prison for two years for homosexual acts, a "deadly" sin under the rule of Queen Victoria. After his release, the author settled in France where he died in poverty in 1900. At that time he was only 46 years old. The life of the author of everlasting comedies ended in tragedy.
A good advice: Book tickets as soon as possible, since this wonderful play attracts many fans of The English Theatre of Hamburg.  Phone number 040 – 227 70 89 – online booking under www.englishtheatre.de Last performance of : "The Importance of Being Earnest" on April 27, 2013. Next premiere: "Big Boys", a comedy by Rich Orloff, on May 9, 2013