By Uta Buhr
Thrill as Thrill can: "Stone Cold Murder" by James Cawood  – the new play at the English Theatre of Hamburg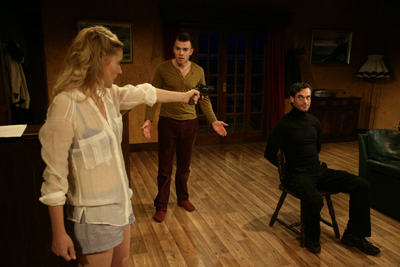 Rejoice! This wonderful thriller comes at the very right moment before autumn arrives with fog, strong winds and rainy days. Just imagine an old hotel in the famous Lake District in north-east England at the end of the summer season. Robert and Olivia Chappell, the newly wed owners of this cosy but rather  run-down place, are happy having got rid of their guests.
While a strong storm is blowing in the surrounding woods and rattling at the windows of the manor, they are relaxing in front of the fireplace in their living-room with a couple of stiff drinks on the coffee table. When the terrace door suddenly swings open with a bang, both the couple and the audience catch a fright. What's more – didn't we see a shadow  passing behind the window-panes? Or did our imagination play a trick on us? No doubt, "Stone Cold Murder" is first-class entertainment, superbly crafted and staged by director Robert Rumpf at the English Theatre. The author of the play, newcomer James Cawood, has just hit the nerve of many people who adore thrillers. Cawood's play is a tremendously absorbing thriller, whose tension from the first moment relies on the plausible and unsettling situation of being stuck in an old house in the middle of nowhere. Best greetings from Agatha Christie! The plot reminds us of one of her most famous thrillers "Ten little Indians" or "The last Weekend" which is set on an isolated island.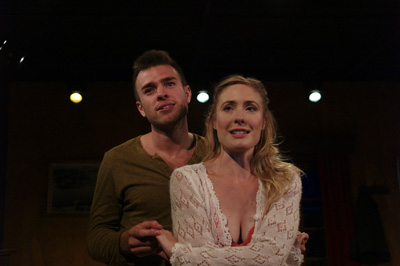 While Robert und Olivia are chatting about their future life, a young man turns up and asks for  shelter for just one night. Robert und Olivia reluctantly consent to his wish after the man who calls himself Ramsey has paid a rather big sum for bed and breakfast. He claims that   bad weather conditions drove him from the nearby  mountains to their house. But why on earth is Olivia so upset by the appearance of this attractive young mountaineer? Does he  know something about her shady past? Before she can find out, Ramsey is murdered by another visitor wearing a ski mask who turns out to be Olivia's former lover, Sam Stone! What an evil surprise. She once stole a precious necklace with him from an old man, took off a big diamond – the most valuable piece of the jewellery – and left Sam for good. Now the young man, carrying a weapon, has come to reclaim his property, as he puts it. Where did Olivia hide the diamond? Before it comes to a row – surprise, surprise – the "dead and buried" Ramsey appears at the entrance, breaks Sam's neck and asks Olivia to hand the diamond over to him. He claims to be the 10th Earl of Warwick, son of the deceased 9th Earl of Warwick, his father, whom Sam Stone only recently killed in his hospital bed.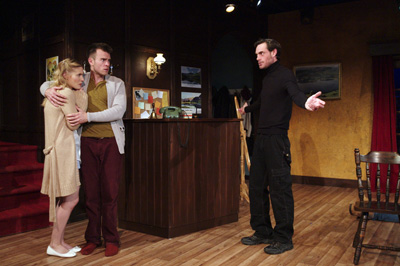 He even produces a visiting-card. But isn't there something wrong with the coat of arms? When Olivia expresses her doubts as to the Ramsey's identity, the events come thick and fast. As a matter of fact, Olivia puts on the glittering necklace, adds the stolen diamond and … Here we have to stop our narrative. Those who want to know all about the end of the play will have to buy a ticket and see for themselves. They will not be disappointed, since this play keeps its suspense until the dramatic showdown. Four brilliant actors guarantee excellent entertainment: Madeleine Hutchins is Olivia, Warren Adams her husband Robert. Nicholas Kendrick plays the dubious Ramsey, while Rob Pomfret gives the Rambo-like Sam Stone.
Some words about the playwright: James Cawood, born in Newcaste upon Tyne – thus a real "Geordie" – spent his youth in Scotland and started his career as an actor. He played in a good many dramas and comedies written by J.B. Priestley, Dennis Potter and P.G. Wodehouse. "Stone Cold Murder" is his first play which was already greeted with enthusiastic
critics in Vienna as "the necklace affair with many corpses." We are sure that the play will also become a blockbuster at the English Theatre of Hamburg.
Final performance of "Stone Cold Murder" on November 9, 2013. Tickets under phone number 040 – 227 70 89, online booking under www.englishtheatre.de
Next premiere of Alan Ayckbourn's comedy "Relatively speaking" on November 21, 2013