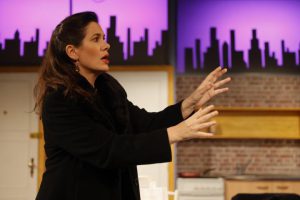 Season Opening
Following the much acclaimed adaptation of Charles Dickens's novel "Great Expectations", director Clifford Dean has realized the bittersweet comedy "Romance in D" by the American playwright James Sherman. Little is known about the author outside the Anglo-Saxon world although Sherman has written a number of plays that proved blockbusters on the stages of New York and other big cities in the United States. Dear spectator, this play was chosen by the theatre to warm your heart on a number of cold, foggy and rainy winter days before and after Christmas. Remember Shakespeare's poem about heavy storms in winter?: "Blow, blow thou winter winds…" Even then you will be warm and comfortable on your seat in the English theatre and enjoy one of the most touching plays ever written.
Chicago, Chicago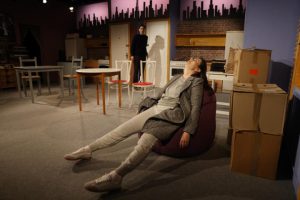 In medias res: At first sight the setting will remind you of New York. But you are completely wrong. The skyscrapers in the background of the stage belong to Chicago. In apartment number 4E in one of the mega city's highrise buildings a young attractive woman tries to commit suicide by putting her head into her gas oven. What a blessing that the man next door smells the gas in time and dials the emer-gency number 911. By reacting quickly, 40-year-old Charles Norton saved Isabel Foxe's life. Every normal person would think that this heroic feat would automatically lead to a love affair between Isabel and Charles. What an error. When Isabel wants to thank her "knight in shining armour" he replies curtly "You are welcome." No doubt, Charles Norton is a difficult person, to say the least. You may even call him a notorious bachelor. His profession is that of a musicologist which means that he Is infatuated with music and could not care less about the rest of the world. He is a loner and horrified by the very idea of having a relationship with a woman, no matter how attractive. Isabel Fox next door was once married to a man who left her for a much younger woman. She is deeply depressed and lonely. As a poetess she tries to compensate her loss by writing poems.
Worried Parents
Charles's mother Helen Norton and George Fox, Isabel's father, are worried about their offspring. Helen, being a typical "Yiddish Momme", pampers her son and cooks him his favourite meals every day. Her heart's desire is to see him happily married to a nice woman who bears him children. However, Charles defends his lonely life with claws and teeth. The only thing he wants is to be left alone. Full stop. Helen is desperate and at the end of Latin. The same refers to George Fox. Since he lost his wife a couple of years ago, his only close relative is his beloved daughter Isabel. He cannot bear to see her suffer. To hell with her unfaithful ex-husband. What about finding her a suitable partner?
Matchmakers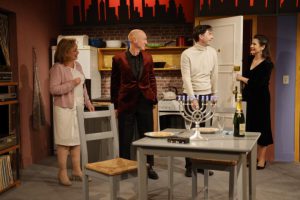 Helen and George do their utmost to bring their children together. Wouldn't Isabel and Charles make a perfect couple? The try fails. What a pity.
Christmas Eve brings the Nortons and the Foxes together. Everybody is relaxed and happy. While George and Isabel light their Christmas tree Helen and Charles stick to their Jewish tradition. Charles lights the candles on their menorah. Merry Christmas, merry Chanukka!
Helen and George are in high spirits and dance while Isabel and Charles are looking on. This perfect evening ends for the older generation in Isabel's bedroom. Isabel and Charles are utterly shocked. How dare they at their age!
As time goes by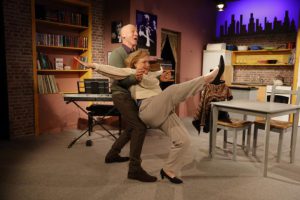 In the long run Isabel and Charles find out that they have a lot in common. He likes and composes music while she writes poems, strictly speaking music in verse form.
Dear spectator, if you want to know more about the progress in Isabel's and Charles's relationship you need to be patient. Will Helen's and George's wish finally come true? That you have to find out yourself. Just buy a ticket and enjoy this bittersweet comedy. We wish you two inspiring hours!
What a play. We are suffering with poor Isabel who has to wait a long time before Charles comes to terms. Doesn't it remind us of prince William's Kate who was disrespectfully nicknamed "waity Katie" by some rude British paparazzi? However, that brave girl never lost her temper and waited patiently until her prince declared to her. It is true that not every woman can become a princess, let alone Princess of Wales…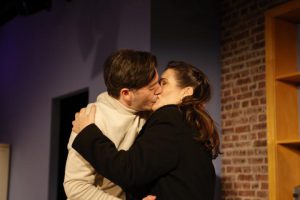 A big hand for the four Thesbians who brought jollity into this grey November evening. Our thanks go to Helena Ashwell as depressed Isabel, Brian Tynan as "nerdy" Charles, Jonny Magnanti in the role of Isabel's charming dad George and last but not least to Joanne Hildon as Charles's highly spirited "Momme."
As already stated in the beginning, we practically know nothing about James Sherman, although he already wrote many plays that proved box-office hits in the United States: "Beau Jest", "This old man came rolling home" and "Magic Time" are very popular plays in the United States. By the way, one of the American critics described "Romance in D" as having "two romances in one." Indeed, more is not possible.
Last performance of "Romance in D" January 7, 2023.
Tickets under phone number: 040 – 227 70 89
Online under: www.englishtheatre.de
Next premiere: "The Pride" by Alexi Kay Campbell, on January 26, 2023