by Uta Buhr
The new Play at the English Theatre of Hamburg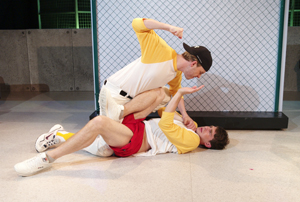 Name one human being that does not want to be beautiful or at least good looking! But how does one describe beauty, and how important is it in everyday life? Neil Labute's play "Reasons to be Pretty" – by the way the first one to be staged on Broadway – is all about physical attraction and how people deal with it. The plot centres around four young working class friends and lovers who become increasingly dissatisfied with their dull lives and each other. "Reasons to be Pretty" is the last – and weakest – installment of a trilogy that focuses on modern man's obsession with physical appearance. The preceding two plays "Shape of Things" and "Fat Pig" were highly acclaimed by American critics.
The plot
Why on earth did Greg describe the face of his lover Steph, a young hairdresser, as just "regular" and not pretty? This is a slap in her face, the more so as Greg committed this gaffe in the presence of her attractive girlfriend Carly! Steph is furious and swears that she will quit Greg on the spot, leaving a completely helpless man behind who claims that he did not want to hurt her and appreciates her beauty.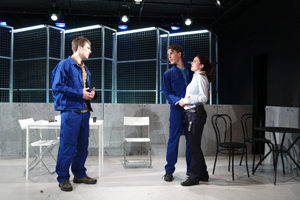 In the prison-like break room of a warehouse – naked walls and barred windows – Greg meets his friend and colleague Kent. Carly, Kent's wife and member of the security team of the warehouse, joins them for a chat. Kent boasts that pregnant Carly is carrying a  "precious cargo." At the same time he confesses to Greg that he is having an affair with a luscious young woman, and even offers to find out whether she has a girlfriend that might please Greg.
Since Carly has been suspecting for quite a while that her macho husband is unfaithful to her asks Greg to report. But he claims not to know anything about Kent's mistress, although he allows them to date in his apartment.
It comes to a showdown when Greg and Kent meet on a baseball field a few days later. Greg feels guilty because he backs Kent's affair, and refuses to lend his apartment any longer to him and his new girlfriend. Kent grows increasingly angry and hits Greg. All of a sudden, both adult men are rolling on the floor, kicking, screaming and insulting each other in very rude words.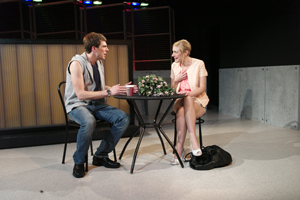 In the last scene we see Greg and Steph in great harmony sitting at a table in the warehouse sipping coffee. Steph has meanwhile become a manager, dresses elegantly and feels very much at ease. She tells Greg that her new lover is just what she always wanted. Both part as good old buddies.
What kind of play is "Reasons to be Pretty?" Is it a drama or a comedy? It is a mixture of both depicting our obsession with physical attractiveness and the pressure we put on ourselves to look a certain way. The play also advises us to think twice before talking in order not to hurt other people's feelings. Further it shows that we are far more than our physical appearance and that it does not take much effort to be kind in our relationships.
The quartet on stage – all four being wonderful actors and attractive ones at that – are giving their best. Congratulations! The only thing that might put off regular theatre-goers is the very rude slang throughout the play, using four-letter words such as fuck, piss and shit. Anyway, just take it easy and enjoy a real highlight of great professional acting.
Last performance of  "Reasons to be Pretty" on November 10, 2012. Tickets under phone 040 – 227 70 89 – online booking: www.englishtheatre.de
Next premiere: "Touch and Go", a comedy by Derek Benfeld, on November 22, 2012