By Uta Buhr
"DON'T  MISUNDERSTAND ME" – THE NEW PLAY AT THE ENGLISH THEATRE OF HAMBURG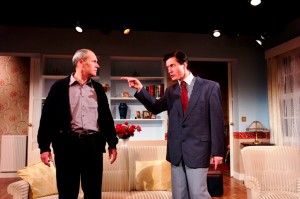 This hilarious play is a Christmas present for all spectators who appreciate the inborn British sense of humour. Britain boasts a great tradition in comedies. Just think of William Shakespeare, the world's greatest dramatist ever, also known under the sobriquet "Swan of Stratford", who not only wrote a number of tragedies, but also numerous, most entertaining comedies, such as "Twelfth Night", "Winter's Tale", "The Merry Wives of Windsor" and, last but not least "The Comedy of Errors." When referring to Patrick Cargill's "Don't misunderstand me", the various errors and misunderstandings between Solinus, Luciana, Lucie, Angelo and the rest of the "set" ring a bell. You may argue that Shakespeare who died nearly four hundred years ago, wrote about his contemporaries' problems, and that Cargill's work (the author died in 1996, aged 77) has absolutely nothing to do with the plays that his famous colleague once wrote. However, this is a fatal error. Both comedies in question deal with one and the same subject – love. If you want to learn more about the errors and tribulations resulting from marital love and secret affairs, buy a ticket and abandon yourself to the pleasure of a most amusing  evening at the TET.
About the play: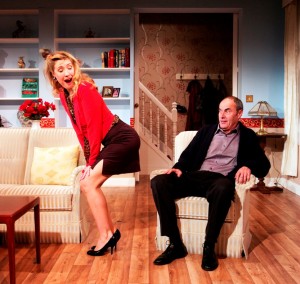 Middle-aged Charles Fleminge, a typical member of the British middle class, indulges in a brief but most enjoyable affair with a young attractive American girl during a business trip to New York.  Charles being a clever business man leaves neither name nor address with his fair lady, but vanishes hush hush from Big Apple. Though he acted rather cowardly, Charles takes pride in his taking French leave. However, the man has completely underestimated his fair lady, luscious, long-legged blonde Janey, who turns up out of the blue in his home in England. Surprise, surprise! Charles makes Margery, his spouse, believe that Janey is his brother's wife Jane. Robert in brotherly love aids Charles to hide Janey's true identity from Margery. The deception works until the real Jane turns up. As to be expected, this tissue of lies results in a number of hilarious complications and misunderstandings. Charles cannot longer conceal his affair from Margery and has to confess to her. As she herself is keeping a romantic secret, a happy ending is guaranteed.
The author of the comedy:
Patrick Cargill who was born in East Sussex in 1918 and died in1996 at the age of 77 was a man of various talents. He was actor and playwright in one who also performed on stage as a singer. As a young man he was aiming for a military career and was selected for training at the Royal Military Academy at Sandhurst, where the princes of the British Royal Family are also trained. However, after World War II Cargill said farewell to the army and started a stage career, in the beginning as an actor in many different parts. In the sixties he began performing on the TV screen and became soon very popular in the United Kingdom. One of his greatest successes was a leading role in "The Blood Donor." He also appeared in films. Just think of "The Countess from Hong Kong" in which he co-starred with Marlon Brando and Sophia Loren. His work for the theatre includes, among others, "Ring for Catty" and "Don't misunderstand me." His fans once named him "A master of the light touch."
The actors: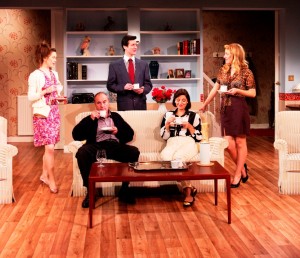 For three of the actors "Don't misunderstand me" is sort of  a home match. The regular audience of the English Theatre already knows James Walmsley, Jan Hirst and Stephen Chance, three wonderful "Thespians" in whatever play they appear.  We also compliment the two newcomers to the Mundsburg stage  Liz Garland as Jane and Madeleine Hutchins as Jaynie on their performance and are looking forward to seeing them in again in Hamburg.
Please note:
Final performance of "DON'T MISUNDERSTAND ME" on February 12, 2011
Next premiere: George Bernard Shaw's "MRS. WARREN'S PROFESSION"  on
February 24, 2011