By Uta Buhr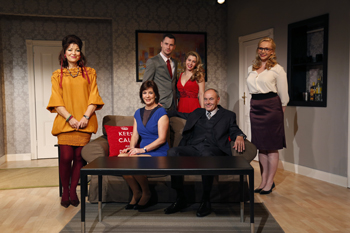 Thank you so much, Edward Taylor, for this funny play that comes along as a wonderful gift on these gray November days, the more so as the world is still paralyzed by the recent assassinations of innocent people in Paris and by other terroristic acts on our planet.
This light-hearted comedy tells us all about love and adultery, lies and prudery in our modern society. This is how it goes…. Jim Watt, a young ambitious businessman, living in a posh apartment in Chelsea, is expecting his American boss Bill McGregor and his wife Nancy for dinner. Nothing wrong with it if, yes if Bill and his spouse were "normal" people. However, both are members of the highly prudish American Church, and expect the employees of Bill's company to be properly married with a wedding ring on their left hand. But Jim leading a hedonistic single existence lives "in sin", as the McGregor's would call it, with a most attractive girlfriend named Helen. For the first time in his life, Jim is in a deep dilemma.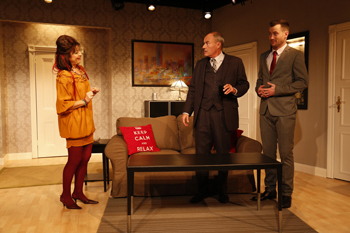 When he asks Helen if she is willing to play his spouse just for this evening and – of course – cook a delicious dinner for his important guests, she leaves his flat in fury telling him that he would never see her again. His second choice, his myopic colleague Terri Pringle, who is secretly in love with Jim, has to refuse since she has to go to a rehearsal of "Naked Dancer", a theatre production, in which she plays a little part. When he calls a former girlfriend, asking her to help out, she also turns him down. Christ, what can he do! In the end he is "rescued" by Edna, his "youngish" cleaning lady whose Cockney accent you could cut with a knife. Edna is willing to help out if Jim on his part is willing to pay her a fee amounting to three-hundred quid for her role as Mrs. Jim Watt. What a cheek! But does he have an alternative? Of course will he pay hat sum if she behaves well and cooks the dinner.
The big boss from America, Bill McGregor (elegantly played by James Walmsley), accompanied by his naïve and shy wife Nancy, is taken aback when he meets Edna who to him looks like Quasimodo in her shabby dress, crowned by a horrible hairdo. But things go even worse when Helen turns up telling Jim that she overreacted in the morning and now wants to stay and play her part as his wife. Poor Jim is in a fix with two wives. Is he a bigamist? Bill is totally flabbergasted when a third woman turns up. Terri Pringle meanwhile has made up her mind to skive off her rehearsal in order to help Jim instead. Now there are three wives and a boss who is as helpless as furious in the face of this rather unusual situation. Help comes from Edna who proves to be an expert on stock exchange matters and tells Bill to invest a big sum in shares of a big international company. While Edna and Bill are changing between the dining-room and Jim's office, the shares go up and up and up. Even Nancy is all smiles.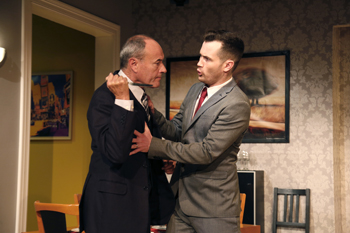 Meanwhile, everything goes wrong with the cooking in the kitchen. When the pressure cooker explodes, Jim and his five guests have to accept the Chinese takeaway brought in by Helen in lieu of the gourmet food originally promised. Instead of relaxing, Bill threatens to ban Jim from London to an affiliate office in Afghanistan because of his messy and sinful life. Now Terri comes up with Bill's disgrace: She once was one of his one-night-stands in New York a couple of years ago when she was working in his office. Doesn't he remember? Nancy turns white as a table-cloth and is deeply shocked. Shame on you, Bill. What about the members of the American Church when they learn about his adultery?
Don't be afraid, dear spectator, in the end all turns out all right, such you expect things to work out in a comedy. All in all, a highly amusing evening with peals of laughter und a
standing ovation.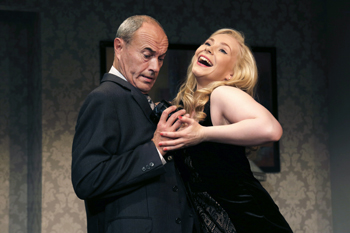 Three of the six actors are already known to the audience of the English Theatre of Hamburg:
James Walmsley is an old friend and classy actor who should be awarded the "Medal of Honour". The same refers to Jan Hirst whom we remember in her much talked about part as Sister Aloysius in John Patrick Shanleys drama "Doubt", and last but not least Debbie Radcliffe who cut a good figure in the comedy "Touch and Go." We welcome the three debutants Paul Stoss (Jim Watt), Lucy Sinclair (Helen) and Toni Peach as Terri Pringle and hope that they will come again to cheer us up in another play on the stage of the TET.
Edward Taylor is a renowned British radio producer and playwright who has been working for a long time for the "Grand Old Lady" BBC. Born in 1931 in Essex, he has written a good many plays. Besides "No Dinner for Sinners" he became famous with "Murder by Misadventure" and "Pardon me, Prime Minister."
Last Performance of "No Dinner for Sinners" 6 February 2016
Tickets, as usual, under telephone number 040 – 227 70 89, online booking under
www.englishtheatre.de
Next Premiere on February 18, 2016, of "Educating Rita" by William Russell