By Uta Buhr
The plot: Father Tim Farley, an elderly Roman-Catholic priest of Irish descend, is flabbergasted when he meets young head-strong seminary student Mark Dolson who insists on challenging certain rites and traditions of the Church. Accustomed to a good easy-going life, nice parishioners who follow him like sheep and spoil him with gifts such as bottles of good wine and other highly enjoyable things, he does not know what to answer when Mark questions his views on subjects as celibacy and whether women and gay men should be allowed to serve the Roman-Catholic Church as priests. "Weren't it women who followed Jesus on his bitter way to Golgatha", says Mark. Not to name Saint Veronica who wiped the face of Christ with her veil. As Mark's speech goes on, Father Farley becomes extremely helpless and takes resort to a large glass of excellent white wine to calm down. What on earth does this young rebel want, the more so as he apparently is the son of affluent parents? Had he not better choose another job than that of a priest? But Mark insists on becoming a devout servant of the Church which, as he points out, should concentrate more on humane values such as charity and brotherly love. Wow! Father Farley being not only an experienced priest and devoted servant of the Church but also a good-natured man with strong feelings for the "children" of his parish offers Mark the chance to deliver the next sermon in St. Francis Church. He even introduces him as a newcomer to the parish, with the looks of James Dean at that!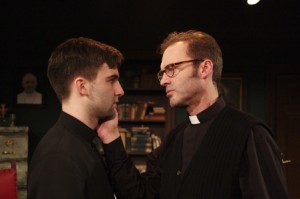 Needless to say that the audience used to the normal patronising sermons, is not amused by the speech of this young fire-head who obviously wants to revolutionise the Church. The coughing, sneezing and other unnerving noises irritate Mark so much that he finally loses control over himself and starts shouting at the church-goers. In spite of Father Farley's efforts to iron out Mark's outburst, the young man's religious career is finished. A last meeting with Monsignor Thomas Burke, an old stolid man who fiercely sticks to the traditions of the Church, ends with a handshake and a more or less friendly "Good day, young man." After all, there is a silver lining on the horizon in the final scene when Mark and Father Farley separate for good. The old priest has obviously learned his lesson and is willing to lend an ear to other people's opinions and wishes in the future.
A wonderful play performed by two talented actors and staged by a highly professional director. Congratulations and thanks for a fascinating evening to Peter Amory (Father Farley), Stephen McGonigle ((Mark Dolson) and last but not least to Andrew Lynford who has a long record as a theatre director in the UK.
The title of the play "Mass Appeal" proves again that English is a very tricky language. What does Bill C. Davis actually mean by using this pun … an "appeal to the masses" or an "appeal to those attending a mass?" Both versions seem to be the right answer to the question. The play which already premiered on Broadway in 1981, proved to be a great success from the very beginning. "A popular work in the best sense, deeply satisfying", titled Jack Kroll, a well-known theatre critic of Newsweek. Since the recent election of Pope Francis, "Mass Appeal" has gained new popularity. The topic issues of the Catholic Church postulated by the Holy Father are modesty and tolerance. An "appeal to the masses" seems to be on a good way.
Although Bill C. Davis is a most prolific playwright, he is still nearly unknown in Germany. What a pity, since he wrote many other great plays including "Spine", "Avow" and "End-Zone." Davis was born in Elleville, New York, and attended Catholic schools in the United States. Davis's first play "Mass Appeal" attracted Hollywood's attention from the first moment. Jack Lemmon took over the role of Father Farley and delivered a brilliant performance.
According to the "ecclesiastical" subject, the audience is greeted with wonderful organ music. In addition, a hint of incense in the air  gives you the feeling to enter a Church. The portrait of Pope Francis decorates Father Farley's office. Whenever it comes to charming details, the English Theatre is always on top of the bill.
Final performance of "Mass Appeal" on April 19, 2014. Tickets under phone number
040 – 227 70 89, online booking under www.englishtheatre.de
Next premiere "National Anthems" by Dennis McIntyre on May 1, 2014