by Uta Buhr
Photos: Stefan Kock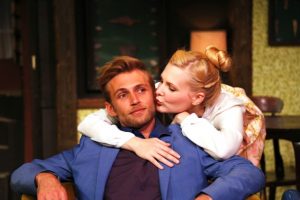 Even if you already had the chance to see this fantastic thriller a couple of years ago, do not hesitate to enjoy Peter Colley's play again. The English Theatre presents an entirely new version of this "spicy" plot, featuring four wonderful actors, imported from the UK.
No doubt, Alfred Hitchcock, the late "Master of Thrill" will jealously be watching – from orbit or wherever he may be – the action on the Hamburg stage, the more so as the plot will remind him of one of the best films of this genre ever – "The House of Lady Alquist", realised as early as 1944 and featuring Ingrid Bergman und Charles Boyer. By the way, it was not Alfred who directed this chilling story, but his great American colleague George Cukor. Sorry, Hitch!
The action takes place in an old run-down, rather sinister farmhouse in the country. The furniture – dark, shabby and filthy – could not be more depressing. Why on earth did Greg Sanderson (Christopher Hunter, elegant and inscrutable) bring his pretty blond spouse Jan (convincing in her role as a mental case, Eleonor Joyce) here of all places! The young woman is recovering from a nervous disorder. She had to spend a couple of months at a psychiatric clinic. Little wonder that Jan does not feel at home in this isolated rural cabin so far away from civilisation. "God, how I hate this house when it becomes dark", she murmurs. And the house is becoming even darker when the lights flicker and finally go out in the middle of the night. Fortunately – at least at first sight – a jovial alcoholic farmer from the neighbouring farm turns up. George (Alan Booty whom we already know from various productions at the TET) tells Jan a lot of stories including tales of murdered young women and pools of blood, a deformed hermit and a vicious leopard escaped from a zoo. Greg, Jan's husband, obviously does not want to get involved in his wife's fears. Being a Ph.D. candidate, he is struggling with his dissertation. By the way, Greg financially depends on Jan's rich father. A terrible thought – but is he after Jan's money?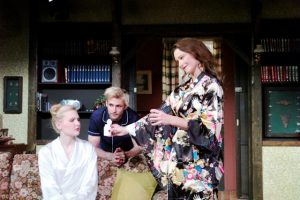 When Greg's sister Laura turns up unexpectedly, Jan is furious. Why does that bitch whom she hated from the very moment she first met her interfere in her marital life? And is the very close relationship between sister and brother not more than strange, just to choose the mildest possible term? Now all manner of frightening events occur. The old house becomes more and more spooky. The electric lights go on and out, bodies appear and disappear, and there is a big pool of blood on the floor. When George the farmer enters the living-room and shoots at Greg, the chaos is complete. Greg in turn kills George, and Jan picks up her mobile to contact the police. In vain, since nobody seems to be on duty.
As the play goes on, there are thunderstorms, strange noises such as the heavy pounding of a heart, a number of electrical failures and plenty of nightmares. In the end the stage is literally littered with corpses – shot or stabbed to death. An extremely chilling plot, the dramatic music underscoring the action in and out the scenes!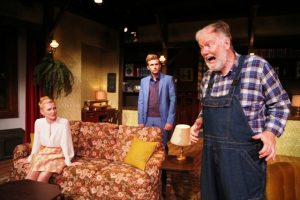 There are so many twists and turns, and the play ends in a way that nobody could possibly foresee. Wow. It would be unfair to unveil further details of this thriller which make the blood run cold in your veins. Just buy a ticket immediately and enjoy a most entertaining evening at the English Theatre.
Peter Colley is one of the best known playwrights in the Anglo-Saxon world. He is particularly gifted for psycho shockers. We remind you of plays such as "When the Reaper calls" or "Murder in Noirville."
He often combines thrilling plots with a humorous touch. As to "I'll be before Midnight", an American critic once wrote that some of his colleagues heralded the play as a "comedy thriller", whereas, according to him, the few laughs that exist come from embarrassment rather than from witty dialogue. There is, no doubt, something to it.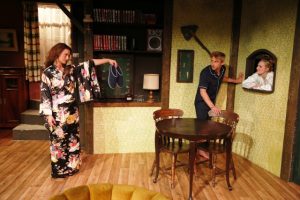 Last performance of "I'll be back before Midnight" on November 4. 2017
Tickets under the telephone number 040 – 227 70 89 or online unter www.english-theatre.de
Next premiere: "Boeing-Boeing", a farce by Marc Camoletti on November 16, 2017, starting at 8 p.m., as usual