By Uta Buhr
Photos: Stefan Kock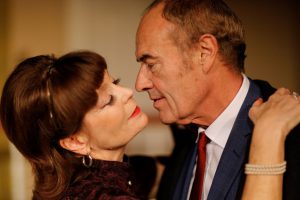 What to do on a grey November evening in Hamburg? You can either have an early night in bed, prepare yourself a nice hot cup of tea or – much better – buy a ticket for the English Theatre of Hamburg und rejoice in the farce "Here lies Jeremy Troy", written by Jack Sharkey as early as 1965. Although this hilarious comedy is an "old hat", so to speak, it has not lost any of its charm since it premiered on Broadway some fifty years ago. What do you think when you hear or read the title "Here lies Jeremy Troy?" In fact, English is a tricky language, since to lie has to meanings. You may either lie on your sofa or lie to your wife or boss. The latter meaning is to be dishonest to somebody. The spectator will soon find out which meaning applies to Jeremy Troy, the "hero" of this play.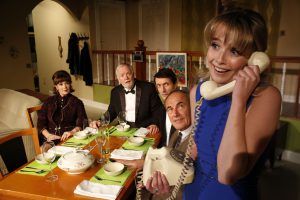 We meet Jeremy and Kathryn Troy – a well-heeled couple (James Walmsley and Debbie Radcliffe in top form) – in their cosy apartment in West Rutherford, New Jersey, just a few miles away from New York City. Jeremy, a lawyer who is up for a partnership, has invited his big boss for dinner tonight. Kathryn leaves the house to do her shoppings and Jeremy is left alone with his ideas how to convince his boss to make him a partner in his law firm. The setting seems so be perfect until an old school chum of Jeremy's turns up out of the blue. Charles "Charly" Bickle (funny as usual Stephen Chance), a notorious sponger, turns up at the Troy's doorstep and blackmails Jeremy into putting him up this night. Charly discovers that Jeremy's law degree is a fraud. Charly is getting his way – and what a cheek – even hires a "model" by phoning an agency in the city. Tina Winslow (sweet and naïve Isobel Wood) is a real eye-catcher in her canary-yellow outfit revealing pretty long legs. When Kathryn unexpectedly comes home, she is shocked to see this young woman in her home whom she suspects to be Jeremy's lover. She leaves the apartment "for good" as she shouts and disappears. Poor Jeremy is in real trouble. Who on earth is going to cook the dinner and entertain his boss Sven Ivorsen? Jeremy has a brilliant idea. Why not make attractive Tina with her charming Southern drawl his wife for this night's reception? Tina consents, and the party can start. Sven Ivorsen (Alan Booty at any time good for waves of laughter), a powerful man with a loud voice, turns up dressed formally in a tuxedo and is deeply impressed by Jeremy's charming replacement spouse. Even Tina's inedible food does not spoil the dinner party. The four of them – Jeremy, Tina, Charly and boss Ivorsen – are in high spirits drinking wine and making jokes just to the moment when Kathryn appears on the scene. Jeremy as an experienced liar presents his real wife to Ivorsen as Ingeborg, Princess of Rumania, although Ivorsen has his doubts that this is a genuine Romanian name. The chaos created by the host and his classmate Charly culminates in Jeremy's confession that he never passed his exam as a lawyer at any university. He admits that he wanted to impress his beloved Kathryn by presenting a title that he never deserved. Kathryn forgives her husband on the spot. But what about the reaction of boss Sven Ivorsen when learning the truth about his partner-to-be Jeremy Troy? Dear spectator, come and enjoy this wonderful screwball comedy that will give you an answer to this             question. After all, Sven Ivorsen, a cunning lawyer himself, has the last word: "Honesty is the best policy", he preaches to the audience who thanks the performers with a long lasting applause.
Although "Here lies Jeremy Troy" was already written in 1965 and premiered the same year on Broadway, it has not lost its relevance to the presence. In our daily life we meet people – not least in politics – who are masters of glossing over their true situation, including their curriculum vitae. Mostly without any consequences. "Orbis terrarum vult decipi", the wise Romans already knew human nature all too well. Nothing has changed yet. We repeat this dictum in good English: Halas, the world will be deceived.
The American author Jack Sharkey who was born in Chicago in 1931 and died 1992, began his career as a writer at the early age of ten years. He wrote altogether 83 plays – mostly comedies, but also thrillers such as "Murder House" – and became one of America's foremost playwrights. "Here lies Jeremy Troy" was his hit number one which proved an applauding success on Broadway. One of his critics wrote enthusiastically "A hilarious farce, sexy but nice, a comedy with witty dialogue. One just can't help laughing throughout the play." And another one added: "Jack Sharkey has a hit on his hand."
Final performance of "Here lies Jeremy Troy" on February 2, 2019
Tickets under phone number 040 – 227 80 89, online booking under www.englishtheatre.de 
Next premiere: "Beauty of the Father" bv Nino Cruz, on February 14, 2019