Von Uta Buhr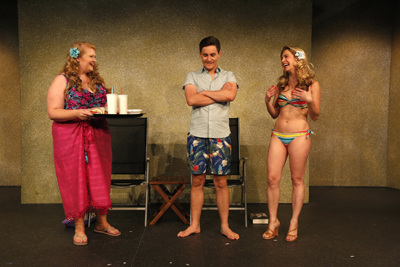 Fat people are in for a hard life in today's society. Just look at the thin, thinner, thinnest models in women's magazines and on posters. Isn't it any woman's duty to be as thin as all those skinny girls on covers and in advertising spots on TV? Little wonder that Neil LaBute, one of America's top playwrights and screenwriters, has chosen this topic for one of his plays. This man known for his controversial opinions, who was born Detroit in 1963, is not afraid of dealing with obesity which still is a taboo in many people's minds. Here we go.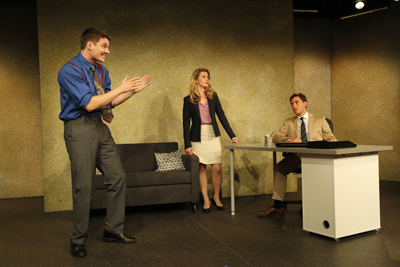 Plus-size people normally are ashamed of their swelling forms and often try to hide them under XXL-T-Shirts and or long kaftans. Not so Helen, the overweight librarian who dons nice floral summer dresses and even seems kind of proud of her baroque frame! Tom, an attractive young businessman who works in a big American city, meets Helen at lunch-time on a square where she is enjoying an opulent meal. She even confesses to having just eaten three pizzas and a dessert. Tom likes Helen's composure and falls in love with her. Although they start dating, Tom does not tell anybody that he has a new girlfriend. It is obvious that he is not willing to present his new flame to his pals. Carter, Tom's rather outspoken colleague and friend, suspects that Tom is in love with some new girl and tries hard to find out who she
is. By chance, he meets Tom and Helen in a Chinese restaurant and is shocked by Helen's appearance. At the same time, Jeannie, Tom's girlfriend of many years, a slim and beautiful young woman, learns about Helen. Hurt by Tom's infidelity, she attacks him for dating that "fat bitch," the more so as Tom does not seem to have any pangs of conscience. What an idiot who prefers somebody as "fast as a sow" to an attractive girl like her! In the meantime a photo of Helen has been mailed to all members of the office staff by Carter. And everybody is ridiculing Tom for his bad taste.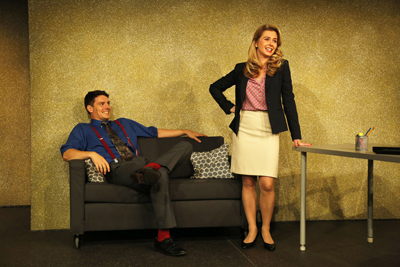 On a Sunday afternoon Tom and Helen are sunbathing on a crowded beach without knowing that Carter and Jeannie have decided to join them. Jeannie wearing an elegant bikini, meets her overweight rival for the first time, looks at her contemptuously and disappears. Also Carter strolls along the beach, says hello and follows Jeannie. Just a couple of days before he had recommended to Tom "to stick to his own kind." Poor Tom is in a dilemma. Help comes from Helen who tells him that she has been offered a very good job in another city. Does he think she should accept? If so, they would have to separate. Tom proves that he is not strong enough to endure the contempt of his pals and tells Helen that he cannot handle it. He tells her to take the job and to leave for good. Both lovers are left broken hearted.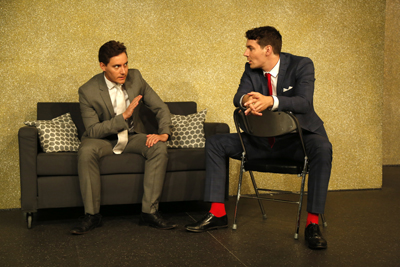 The audience enjoyed the play very much in spite of the ending that was far from happy. A big hand for four gifted actors who gave their best. As we learned, Rosalind Seal (Helen), Ed Sherdian (Tom), Ziggy Ross (Carter) and Lucy Sinclair ("catty" Jeannie) were picked out of 500 by director Robert Rumpf who always proves a genius in choosing the right actors for his plays.
The author
Neil LaBute is well known to the habitués of the English Theatre. They already enjoyed "Reasons to be pretty" and "This is how it goes" on the Mundsburg stage. By the way, Neil was the recipient of a literary fellowship to continue his studies at the Royal Theatre in London.
Final performance of "Fat Pig" on November 7, 2015.
Tickets under telephone number 040-227 70 89, online booking under www.englishtheatre.de
Next premiere on November 19, 2015, of "No dinner for sinners", a comedy by Edward Taylor
fotos: Kock