by Uta Buhr
Photos: Stefan Kock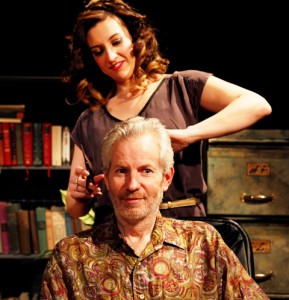 Her initial name is Susan. However, Susan worships writer Rita Mae Brown and therefore calls herself Rita. Frank, a middle-aged lecturer at a university in the North of England (superbly played by Tim Shoesmith) is deeply shocked by Rita's appearance and her terrible Liverpudlian accent (Grace Alexander Scott plays brash Rita in the most charming way) when she steps into his study. Does this awfully dressed, rather vulgar young woman – skirt too short, heels too high – really think that he is willing to teach her the poems and dramas of Shakespeare, Chaucer, Fielding and other great figures of English literature? Just imagine her literary taste! Her favourite book is "Rubyfruit Jungle" by that lesbian Brown woman. Good Lord! Frank does not hesitate to order Rita to leave his study at once. However, Rita insists on attending the "Open University" and being tutored by Frank. What a cheek. Frank, an alcoholic career academic, who has taken on the tutorship mainly to pay for his booze, tries several times to get rid of Rita, without any success. She sticks like a bur to him. Her perseverance is just incredible.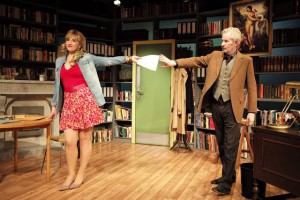 In the end Frank gives in and accepts Rita as his student. He quickly gets accustomed to Rita's spontaneity and is impressed by her verve and serious efforts to read and interpret the works of great writers and poets. When she asks him to read Ibsen with her, he is full of praise. As a matter of fact, Rita's husband, a member of the working class like herself, does not share her enthusiasm for higher education. On the contrary, he is rather furious with his wife. Although we do not see Rita's hubby – wasn't his name Steve – but hear him shout in the background. Why on earth does a hairdresser need university lectures on literature? But Rita's hunger for education is much stronger than Steve's loud criticism. As she proceeds, reads and writes difficult "stuff", even Frank gets nervous, the more so as she becomes independent of him and his teaching and starts asking questions he does not like. Rita proves that she can stand on her own feet and is able to challenge the attitudes of a traditional university, teaching Frank to question his own understanding of his work and himself. In the end Rita passes all exams, leaving Frank in a dilemma as he notices that his former student is beginning to adopt the pretensions of the university culture he despises so much. While Rita seems to be proud of her success, Frank packs his books and prepares himself for a sabbatical in Australia. Who in the audience had expected this bitter-sweet ending of the play?
It is quite obvious that Willy Russell's comedy borrows from George Bernard Shaw's play "Pygmalion." On the other hand, Shaw himself based his play upon archetypes from Greek mythology: a sculptor named Pygmalion disillusioned by women, models a female figure from a block of white marble, falls in love with his work and finally breathes life into the beautiful dead body. It thus becomes his creature.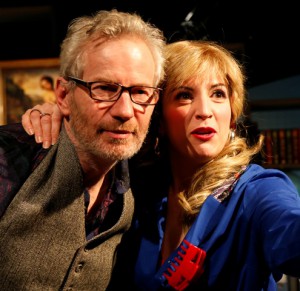 Willy Russell, who was born in 1947 in Liverpool, once worked as a hairdresser before becoming a famous playwright and songwriter. As he left school at the age of 15, he certainly did not obtain a classic schooling and therefore had to work hard to acquire higher educational standards. "I wanted to make a play which engaged and was relevant to those who considered themselves uneducated, those whose daily language is not the language of the university or the theatre. I wanted to write a play which would attract, and be as a valid for, the Ritas in the audience as the Franks", writes Russell in the foreword of his play. The film adaptation of the plot featuring Michael Caine as Frank and Julie Walters as Rita proved a great success in Britan and abroad. Other plays and musicals written by Willy Russell include the Beatles story "John, Paul, George, Ringo…. and Bert", "Blood Brothers" and "The Wrong Boy."
Last Performance of "Educating Rita" on April 16, 2016
Tickets, as usual, under telephone number 040 – 227 70 89, online booking under
Next Premiere on April 28, 2016, of "Dangerous Obsession" by N.J. Crisp