by Uta Buhr
Photos: Stefan Kock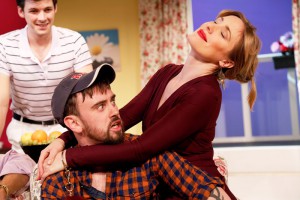 Rejoice and look forward to a performance of a wonderful comedy at your favourite theatre in Hamburg! All those who never miss a play at the TET already know and love Derek Benfield, one of Britain's foremost theatre playwrights, who not only wrote some extremely amusing comedies, but at the same time appeared himself on stage in several plays. Experts agree that he was a very gifted actor. What a pity that this man who gave so much joy to millions of people died in 2009 at the age of 83. Anyway, Derek will no be forgotten as long as his plays are performed in theatres and on TV stations worldwide. But now let us have a look at Sylvia and her unique idea to find the "ideal husband."
Sylvia, a young successful business woman who resides in a posh apartment outside London overlooking a river branch is having a big problem. Only recently, her lover Robin walked out on her and is now dating another girlfriend. Depressed and disillusioned, Sylvia decides on a rather unconventional method of finding a replacement. However, just one man does not seem to guarantee fidelity on a long run or even for eternity.  Once bitten, twice shy! Sylvia decides to be on the safe side this time by choosing three men at the same time. Walter, the oldest and most serious among them is a successful solicitor, whereas lover number two works as a carpenter. Clive, the "middle-man", a physical education teacher, is the most attractive of the three "candidates "All three are madly in love with Sylvia and determined to marry her as soon as possible. They do not know that they are all engaged by her on a "trial basis." With utmost care Sylvia arranges a timetable in order to try out her three lovers and assess their suitability before making her final choice of a potential husband. What a brilliant idea, at least at first sight. But timetables have a way of going terribly wrong…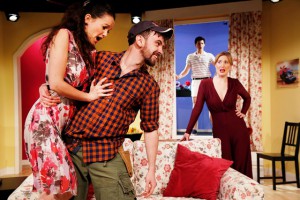 The chaos starts when Clive (very good looking, Rafe Young) arrives by rowing-boat on the wrong day. Has that bloke forgotten his "jour fixe?" When Walter arrives with a bunch of flowers and sweet words on his lips (was this Monday really "his" day?), Sylvia nearly collapses (James Walmsley in the role of Walter as elegant and gentlemanly as ever).  Fortunately Jemma, Sylvia's best friend and business partner (Madeleine Hutchins, attractive and most eloquent), intervenes by talking charmingly to Walter und asking him into the kitchen. To complete the mess, Eddie the carpenter enters the living-room carrying all his tools to build a new cupboard in Sylvia's bedroom. The young man from the working classes (Garry Hayden is very authentic with his Cockney accent that you can cut with a knife) is surprised to find Sylvia in a state of unusual nervousness. What the hell is going on in her stylish home? A torrent of confusions and mistaken identities inevitably arise as Sylvia ( Tara Dowd, pretty and sensitive) and Jemma try their best  – with unexpected and hilarious results – to prevent the confrontation of the three husbands on "probation." A delightfully comic climax ensues culminating in an unexpected showdown. Just one hint: When a messenger boy brings Sylvia a huge bunch of flowers, sent by her ex-lover Robin, she escapes from her flat leaving three crestfallen males and a radiating Jemma behind her. Find out what makes Jemma so happy after all these trials und tribulations!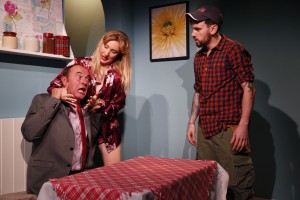 No doubt, "Don't Lose the Place" is witty and charming at the same time. The title, however, does not offer much orientation at first sight. The German title "Falscher Tag – falsche Tür" is, as I feel, much clearer. In fact, Sylvia's husbands-to-be arrive on the wrong day and miss the right door in the flat. Derek Benfield's comedy has become so popular that a couple of German theatres have performed it over the years. Believe it or not,  the Italians also enjoy this stage play. It is performed under the title "Toccata e Fuga". No doubt, Italian men know something about female psyche. Just think of Verdi's "Rigoletto" and the famous aria "La donna è mobile." The play perfectly reflects this state of mind.
Last but not least a few words about the author: Derek Benfield was born in Bradford/Yorkshire. He trained as an actor and wrote a good many comedies, all of them box-office hits. His oeuvre comprises "Anyone for Breakfast" (performed at the TET in 2014), "Look who's talking", "Second time around" etc. Benfeld died in 2009.
Last performance of "Don't lose the Place" on February 4, 2017
Tickets unter der Telefonnummer 040 – 227 70 89 oder online unter
Next premiere "Othello" by William Shakespeare on February 16, 2017