By Uta Buhr
Photos: Stefan Kock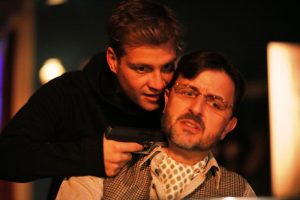 Dear reader, have you ever spent a few days and nights in the Scottish highlands? If so, you will certainly remember the fascinating view of high mountains and numerous lochs that form the landscape of that country in the northern part of Britain. Just buy a ticket for the latest play at the English Theatre of Hamburg for a thrilling "déjà vu" that will send chills down your spine. Are you ready for the story told by James Cawood who loves the austere charm of the highlands that inspires him to write ingenious plays of murder and intrigue. Just remember "Stone Cold Murder", also written by James Cawood and premiered at the TET in September 2013. Here we go.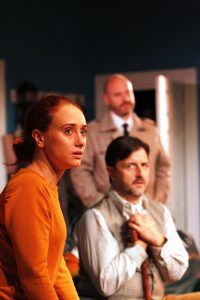 Thunder and lightning, storm and heavy rain! These are the foremost ingredients of a thriller that plays in an old crumbling hunting lodge that last saw its best days during the reign of Queen Victoria. This is just the right place for playwright Henry Roth, a cynical character whose career as a star playwright in the London Westend already ended a good many years ago. Henry (Charlie Buckland excellent in the role of the embittered author) treats his attractive wife Evelyn very badly and makes a nervous wrack of her. This night is a very special one for her since her husband expects a young talented actor named Jack Willoughby (fresh and naïve Joseph Passafaro). The "audition" for Henry's new play seems to be kind of a "breathing space" for her since Henry will stop picking on her for a couple of hours. When the young man enters the lodge cold and shivering from the heavy rain in the mountains, Evelyn seems somewhat shocked. What ever for, since she claims that she never met Jack before in her whole life. Does she tell the truth? This somewhat old fashioned thriller – a real whodunit – leads the audiences through the twists and turns of the plot in style and keeps them on the edge of their seats from start to finish. As the play goes on, it becomes clear that Henry observed Evelyn while she spent a time at a London rehab clinic for alcoholics. Did she meet Jack and are he and Evelyn lovers? Henry, mad with jealousy, kills Jack, whose body is "disposed of" in a nearby ice-cold loch. Wow – that was hard work.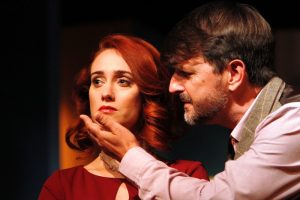 However, before Henry and Evelyn are able to recover from this evil deed a mysterious man turns up and presents himself as DCI (Detective Chief Inspector) Lazan from Scotland Yard (Stephen MacNeice whose seemingly harmless questioning technique reminds us of Peter Falk in the legendary American series "Columbo") who claims to be on the hunt for a local serial killer. Inspite of his friendly manner this middle-aged man in his badly fitting suit makes Henry and Evelyn tremble with fear. He seems to know much more about the happenings in the lodge than he admits… Since we do not want to spoil your pleasure, dear reader and habitué of the English Theatre, we do not intend to tell you what is going to happen in the middle of nowhere in the Scottish highlands at the Roth's lodge. Just come and see for yourselves how this gripping play develops and who in the end is the killer and who is the victim. Or are their two victims? Just so much to enhance your curiosity: Jack escapes from his wet grave and Evelyn ( Faith Knight at her best) is not quite the hysteric innocent woman she seems to be. All four of the talented team, chosen with style by director Paul Glaser, were in top form. Thank you all for this masterly performance.
Recommendation: Associate Director to the TET Paul Glaser recently conducted an interview with James Cawood in London. You can listen to it on YouTube.
Final performance of "Death Knell" on November 3, 2018
Tickets as usual under phone number 040 – 227 70 89, online booking under www.englishtheatre.de
Next premiere of "Here lies Jeremy Troy" – a farce by Jack Sharkey on November 15, 2018