by Uta Buhr
Photos: Stefan Kock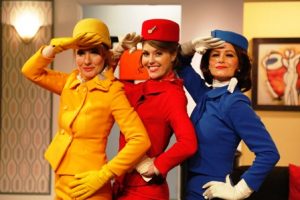 Congratulations – what a hilarious play! "Boeing Boeing", masterly directed by Clifford Dean, marks another "Best of" in the long line of great performances on the stage of the English Theatre of Hamburg. How come that a plot going back to the sixties of the last century is still so popular and elicits almost thunderous applause from the audience. The answer is as simple as that: humour does not know deadlines – witty plays never get stale, no matter at what time they were written. "Boeing Boeing" perfecty reflects the European lifestyle of the "swinging sixties." Those in the audience who still remember the feeling of liberty and the winds of change after the grey and bitter post-war years will enjoy the charm and lightness of this outstanding comedy written in French by the Swiss-born author Marc Camoletti and translated into English by Beverly Cross and Francis Evans.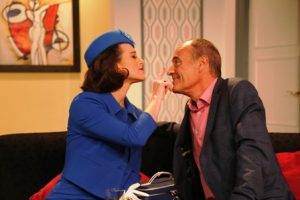 Here we go…
Bachelor Bernard, a successful French businessman living in an elegant apartment in the best neighbourhood of Paris, could not lead a better life. Marriage? Nothing for him who enjoys the company of more than one woman at – yes – the same time. For the time being he is related to three young attractive girls of three different nations: American, German and last but not least Italian. The three of them are flying around the world in their jobs as air hostesses for resp. TWA, Lufthansa and Al Italia. So far so good. However, what happens if the time-tables of the three young ladies overlap each other? According to Bernard this will never happen, since he keeps an eager eye on the take-offs and landings of the different airlines. When Gloria, the "lady in red" TWA hostess arrives in Paris to spend a relaxed weekend with her lover, Gabriella, the Al Italia hostess, is landing in Singapore, whereas Gretchen, the Lufthansa girl dressed all in yellow, is just taking off in New York. All this is cleanly written down in Bernard's secret little note-book. While Gloria (Charlotte Knowles) is unpacking, the telephone wrings, and Gabriella announces her arrival within an hour in Paris. Bernard is panicking. What on earth is this capricious, talkative Italian already doing in France? Didn't he expect her the day after tomorrow? To hell with all these airline timetables! On whom can you still rely these days? Alas – sorry – but shit happens everyday and everywhere. Nobody knows this better than Bernard's sour-faced but loyal housekeeper Berthe (Jan Hirst in top form)?
What a blessing for Bernard that his old school-friend Robert has just arrived from Wisconsin to pay him a visit. Although Robert is a bit of a nerd, he proves to be helpful in this mess. He keeps remarkably cool when he leads Gloria into the next empty room while Gabriella is fixing her make-up in the bath-room. Bernard, the "corpus delicti" who has caused all this trouble is not able to cope with the situation and eventually faints in the middle of his posh living-room. But things even get worse when Gretchen appears right out of the blue because Lufthansa had to change their timetable owing to adverse weather conditions over the Atlantic. Wow!
It really is a masterpiece how dear Robert (Stephen Chance at his best) manages the more than difficult situation with aplomb. Just imagine, there are three women in the apartment, each of them Bernard's one and only, who must not meet each other. It is a noisy affair – doors are opened and slammed a minute later, three female voices call for their lover, and only two people in that clamour remain calm – Berthe and Robert.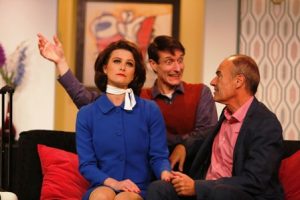 It goes without saying that in the end the Gordian knot is untied, Bernard has learned his lesson – for good? – and starts playing by the rules. But until the happy ending of "Boeing Boeing" it is still a long way to go. The play stretches over two and a half most entertaining hours. In the end curtain and standing ovation for five outstanding actors. Four of them are already well-known to the "fidèles" of the English Theatre: James Walmsley, the gentleman actor, Jan Hirst and Stephen Chance whom we have already seen in different productions, as well as Madeleine Hutchins who is great as Gretchen in this play, and Holly Smith whom we still remember in her vicious part in "I'll be back before Midnight." Pretty blond Charlotte Knowles is a newcomer to the TET. We hope to see her again on stage very soon.
The author, Swiss-born Marc Camoletti, who was born in Geneva but later took on the French citizenship and spent most of life in Paris, died in 2003 and left a couple of comedies to the theatre audiences around the world, inter alia "Happy Birthday" and "Don't dress for Dinner." His most successful play was "Boeing Boeing" which premiered in Paris in 1960 and ran there for 19 years. The English version of the play opened two years later and ran for seven years in the Westend. Hollywood did not hesitate to turn the plot into a film starring Tony Curtis, Jerry Lewis and last but not least Thelma Ritter in the part of Berthe.
<><><><><><><>
Last performance of "Boeing Boeing" on February 3, 2018
Tickets under the telephone number 040 – 227 70 89 or online under
www.english-theatre.de
Next premiere: "The Picture of Dorian Gray" by Oscar Wilde on February 15, 2018 at 7.30 p.m. as usual