by Uta Buhr
Photos: Stefan Kock
Do you remember Audrey Hepburn's April in Paris, when she – the daughter of a chauffeur in Billy Wilder's wonderful comedy "Sabrina" – is being sent to Paris to learn all about French cuisine to be later a cook at the rich Larrabee family in their luxurious home on Long Island? Good Lord, Sabrina is full of praise for the word's most glamorous city. Come to Paris in April, she insists, when the chestnut trees in the Avenue Montaigne are in full flower, walk along the banks of the Seine and have a sun-downer in one of these marvellous places by the river. Wake up. The April in Paris as described by John Godber has nothing to do with Audrey/Sabrina's story.
On the contrary, the play starts in a fairly run-down place somewhere in Yorkshire where Al and Bet are leading a boring life. After twenty years in a big company Al has lost his job and is unable to find another employment. Foreign workers from the "Continent" have undercut him. He is utterly frustrated and tries to compensate the fears about his future by doing acrylic art work, all depicting sad industrial areas in bad weather. Bet, his wife works as an underpaid sales assistant in a shoe shop and is as frustrated as her husband about their dull life that does not offer anything to cheer her up. However, she is far from giving herself up. Instead of hanging around, she is scanning that sort of penny-dreadful magazines which not only offer their subscribers a glance into the world of the rich and the beautiful, but also offer them a chance to win a dream holiday. And bingo – Bet hits it on the head and is the proud winner of a "Romantic Break" abroad and – guess – where? It is a dream holiday in Paris – all costs paid.
It is decided that they go by ferry to France. Al in his best suit – cheap of course, but clean and ironed – and Bet in a nice dress from Primark. On board the ferry they feel more than just a bit misplaced among all those elegant cosmopolitan people. "Look that couple by the window. They are French", Bet whispers. "How do you know?" Al answers. "They are drinking white wine and not beer." So far the logic of two litte Englanders on a trip to an unknown destination in "Europe." Indeed, they are really xenophobic, at least Al whose interpretation of Paris is that of a sink of iniquity, full of porno shops, prostitutes and muggers. Bet does not share Al's mood. On the contrary, she is open-minded and interested in everything new. On the ferry she has begun to talk French to the waiters with the help of her little phrase-book. And imagine – they even seemed to understand her hotchpotch of English and French and just served her the delicious fish she had ordered. What a success that even Al admires. Alas, he did not get to eat what he wanted. Instead of the steak that he meant to have ordered he got beef tartar, raw meat with a raw egg on top. Who, for Heacen's sake, is expected to eat such a muck! However, things develop, and even Al finally enjoys his stay in Paris when he watches some master works in the Louvre. He is much impressed by the fine paintings by the French impressionists Monet, Manet and Pisarro. Forgotten are the fits of sea-sickness, the bad food and the imaginary muggers in the Parisian streets.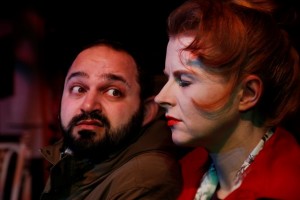 After their four-day "Romantic break", we meet Al and Bet again in their Yorkshire home. Something has happened to them and changed their attitude. Bet dresses more carefully and utters sentences in her rudimentary French while serving warm croissants and steaming hot "café noir" to Al who has started a new life as an artist. He has turned away from his depressing acrylic art work and is now doing colourful paintings showing Parisian landmarks such as Notre Dame, the Eiffel tower, Sacré Coeur and last but not least the Arc de Triomphe. Altogether amateurish stuff which Bet despises but that he likes so much, that he pins his paintings to the walls of their home. Let us hope that Al's and Bet's newly found happiness will go on and on until the end of their lives.
Am I supposed to enjoy this so-called "Romantic Break?"
What a wonderful play, written by John Godber, one of Britain's most popular playwrights, who was born in Yorkshire in 1956 and knows all about the problems of a region ridden by unemployment and the ensuing depression of those who lost their job. John Godber, himself a miner's son who studied in Leeds and worked as a teacher before becoming a man of the theatre, wrote altogether thirty plays – among them "Passion Killers," "Bouncers" and "Blood, Sweat and Tears", all of them box-office successes. In 1992 he wrote in a magazine: "Two decades ago unemployment in Hull was high, there was a dip in the building trade and people were scanning magazines for the chance of a dream holiday. Money was tight; shops were closing. It sounds all too familiar."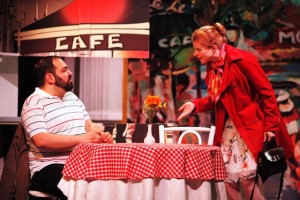 We guess that Cathy Conneff (Bet) and Ralph Bogart (Al) never had go undergo such a bitter experience of unemployment and despair. But they identify perfectly with both characters and are just brilliant in their roles. Although their Yorkshire accent sounds very natural, a tinge of a cultivated Oxford accent is unmistakable. Little wonder, since both actors studied at renowned drama schools – Cathy at Drama Studio London and Ralph even enrolled at the famous Lee Strasburg Institute. Thank you both and director Dan Philips for a wonderful evening.
Last performance of "April in Paris" on June 24, 2017
Tickets under the telephone number 040 – 227 70 89 or online unter www.english-theatre.de
Until September the TET will be on holiday. We will be back here as soon as we are informed about the new premiere