By Uta Buhr
"Moon over the Brewery" by Bruce Graham – the new play at the English Theatre of Hamburg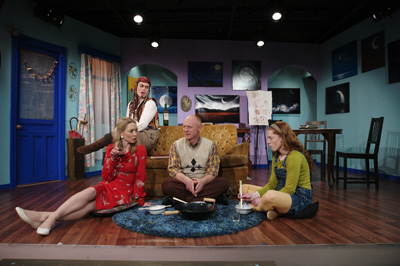 The fabulous world that teenager Amanda Waslyk has built around her dull existence can by no means compete with that of Amélie, alias Audrey Toutou. Do you remember that gorgeous French film, showing those hot spots and old quarters around Montmartre? In order to cope with her loneliness in Beertown, a dirty coal town in Pennsylvania, thirteen year old Amanda invents Randolph, a smart and handsome young man whom only she and, of course, the audience can see and hear. Since precocious Amanda loves books, and novels in particular, by such famous authors as F. Scott Fitzgerald, her dream companion appears on stage in the outfit  of the Great Gatsby and behaves as snobbishly as Fitzgerald's hero. Amanda's single mom Miriam hates her daughter's "friendship" with invisible Randolph, although she is unable to chase him away. Miriam makes her and Amanda's living by working as a waitress in a diner, although she is an artist and would like to paint all day long. Since she is free at night, she concentrates all her talent on the moon. The walls of the small family home are decorated with pictures of her favourite subject – full-moons, half-moons and crescent-moons.
While Miriam is longing for some male companionship, Amanda and Randolph try everything possible to prevent her from meeting a lover. In spite of their conspiratorial actions, one sunny morning Warren Zimmerman, a friendly postman, turns up and falls in love with Miriam. At such critical times, Amanda asks Randolph for help to clear the house of Warren, the unwelcome guest. However, Amanda and her imaginary partner Randolph have obviously underestimated their common enemy who beats both with his own weapons – resourcefulness and kindness. In the end, Amanda succumbs to Warren's charm and therefore   tries to get rid of Randolph. However, Randolph sticks to her like a bur…
Although "Moon over the Brewery" is a funny, yet touching play it can by now means compete with "blockbusters" such as "The Comedy of Errors" or "The Fox" –two outstanding performances at the English Theatre we have become used to lately.
Bruce Graham, although a success in the Anglo-Saxon world, is still widely unknown in Germany. Maybe we will have the chance to see another play written by him in not too distant a future.
Final Performance of "Moon over the Brewery" on June 30, 2012 – tickets by telephone 040 – 227 70 89 – online-bookings: www.englishtheatre.de
The readers of our DAP Homepage will be informed about the next premiere in early autumn as soon as the title of the new play is known to us. Please have a little patience.