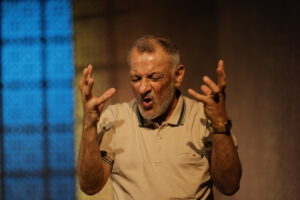 How dare a young woman, born into a traditional Muslim family, write a novel about the Prophet Muhammed examining his various marriages and the origin of the "hijab", the veil, that women have to wear in many Islamic communities? This is the essence of Ayad Akhtar's provocative play "The Who & The What" that premiered on April 6 on the Mundsburg stage.
Indeed, this Pulitzer Prize winning American author of Pakistani heritage (born 1970), is a critical observer of Islamic customs, traditions and prejudice against Western values which do not seem compatible with the values of any devout Muslim. He does not stop digging deeply into his own heritage as an offspring of a Muslim family living in America.
The setting: The home of the Pakistani Afzal family in Atlanta, Georgia. The family patriarch once immigrated from Pakistan to America without a cent in his pocket and built up a taxi company that made him a rich man. Afzal has every reason to be proud of himself. As a good father he saw to it that both his daughters got a good education.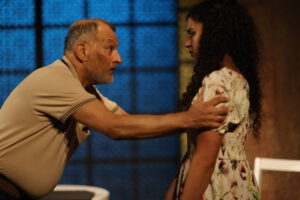 Zarina, Afzal's free-thinking elder daughter, is not interested in finding a husband although her younger sister Mahwish wants her to get married soon so that she herself can marry her boyfriend. It is an unwritten law in traditional Muslim families that the elder sister has to marry before the younger one can wed her fiancé. Afzal, a devout Muslim, does not agree with Zarina's independent way of life and urges her to find a "suitable" husband. After her back he signs her up on a Muslim dating website and interviews the candidates in her name. His choice is Eli, a white American, who only recently converted to Islam since he prefers the Islamic faith to the, as he feels, superficial values of Christianity. When Zarina learns about her father's encroachment, she is furious. However, after talking to Afzal she agrees to meet Eli. Both find out that they have a lot in common. Eli even encourages Zarina to write her novel on the Prophet Muhammed who, as she found out after studying his life, was anything but perfect. Isn't it time, she asks to relax the rules of the Koran, the Holy Book of Islam, after more than 1,400 years and liberate Muslim women? Why do some Muslim communities insist on women's wearing a veil and why the hell are they not allowed to determine their own lives? When Afzal reads some chapters of Zarina's book he is out of his mind and forbids her to have it published. He cannot accept Zarina's refusal to do so, the more so as Eli supports her in every possible way. He outs himself as a defender of women's rights. Enough is enough, shouts Afzal and bans Zarina and Eli from his house. The message: Never ever come back.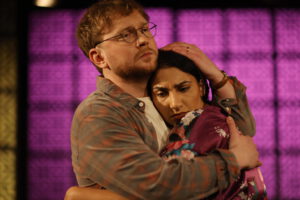 Two years later we meet Afzal and Mahwish in one of Atlanta's lush green parks. The sun is shining, birds are twittering in the trees, and everything seems to be in perfect order. When Zarina turns up out of the blue, Afzal addresses her mildly and asks her how she is. He obviously is suffering from pangs of conscience and even seems to enjoy Zarina's presence. After all, he wants her to be happy, although the publication of her book caused him trouble. Most of his drivers quit and one even broke a window in his office. Zarina tells her father that after getting into serious trouble in the Muslim community she and Eli, her husband, will leave Atlanta and settle in Oregon. She is very glad that her book became enormously popular in the United States, encouraging many people, particularly women, to speak out their own opinions without any inhibitions. Afzal is in high spirits when Zarina confesses that she is expecting a child. Isn't it wonderful that she will soon make him the grandfather of a boy! When he learns that Zarina will give birth to a girl, he seems depressed. Zarina smiles and enjoys her triumph over Afzal, the old macho!
"The Who & The What" reminded a critic of Shakespeare's "The Taming of the Shrew." However, in contrast to the play written more than 400 years ago by the "Swan of Stratford", the disobedient woman in Ayad Akhtar's comedy does not submit herself to male dominance but insists on her independence as a free human being.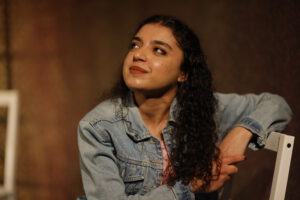 While "The Who & The What" has been a great success on German and Austrian stages, played by German speaking actors, stage director Clifford Dean was given the chance to choose actors with a Pakistani background. Karen Johal is convincing in the role of Zarina who – torn between loyalty towards her father on the one hand and her fight for independence on the other – finally decides to go her own way.
Did Ayad Akhtar create the part of family patriarch Afzal for Rohit Gokani? Indeed, this role fits him like a glove. A brilliant performance!
Also a big hand for Noor Sobka as Zarina's little sister Mahwish and Adam Collier in the part of Eli.
The American press was full of praise after the premiere of "The Who & The What." Mike Fisher of the Sunday Journal Sentinel described the play as "funny and moving," and the critic of the Chicago Tribune found it "gutsy and very admirable… Not a script to miss." Charles Isherwood of The New York Times even compared the play with a "fiery flavored stew, a mixture composed of matters of faith and family, gender and culture." Bon appétit!
About the author
Ayad Akhtar is a screenwriter, playwright, actor and novelist. His plays include "The Who & The What", "American Dervish", "The War Within", and "Disgraced" which was the recipient of the 2013 Pulitzer Prize for Drama.
Last performance of "The Who & The What" on June 3, 2023. Tickets under phone number 040 – 227 70 89 or online under www.einglishtheatre,de
The ETH will be on holiday until September. We will be back here as soon as we know more about the new premiere.
Dear reader, you will also be informed about the ETH's Summer Festival that includes "Sinatra – The Voice."
Photos: Stefan Kock