Warning: This play is an example of sheer toxic masculinity. All four actors are of male sex. Not a single woman is on the stage. Shocking, isn't it? What's more: The author does not stick to what we call political correctness. Believe it or not. He calls a black man a negro! And there are several "negroes" in the play. Just think twice before buying a ticket. Sarcasm out! What an excellent idea to open the theatre season 2023/2024 with Richard Strand's brilliant play "Ben Butler."
A General in a Moral Dilemma
The year 1861. We meet Major General Benjamin Butler in Fort Monroe/Virginia on the eve of the American Civil War. There is a bookshelf crowned by a bust of William Shakespeare in the back of the room. The general obviously is an educated man with humanistic ideals. While Butler is reading a telegram Lieutenant Kelly enters the office and informs him that three fugitive runaway slaves have just come to the Fort seeking asylum. One of them even had the cheek to ask for an audience with Butler. Butler agrees but has to tell the young slave named Shepard Mallory that the Fugitive Slave Act says that slaves must be returned to their owners, even if they fight for the other side. Sorry, but Butler cannot do anything for the young black man and his companions. But Mallory does not let go. He insists that Butler who is not only a general but also a lawyer by profession can "twist the law" in his favour. "That's what you lawyers do", he insists. Although Butler feels pity for Mallory he is not willing to break the law and opens Mallory another way to gain his freedom. Why does he not run away and seek asylum in one of the northern states? But Mallory remains stubborn and prefers to stay in the Fort. He even gets aggressive and slaps Butler in the face. Kelly comes in and threatens Mallory with his weapon. Only Butler remains cool.
A Visit from the Other Side of the Border: Good Cop vs. Bad Cop
The following day General Cary arrives. As head of the Confederate Army in Virginia he has come to claim the three fugitive slaves in order to hand them back to their owners. Cary represents the arrogant Southern "Gentleman Farmer" for whom the three black men are rather farm animals than human beings. Butler knows that a fugitive slave will be brutally punished or even killed by his owner. Being a man of strict moral principles he is not willing to hand Mallory over to Cary. All of a sudden he realizes that a game-changing move could work in favour of Mallory and the two other slaves. A brilliant idea indeed. The notion "contraband" comes to his mind. He remembers that Mallory told him that he and his companions did not pick cotton but had to build fortifications for the Confederate Army. Bingo – that makes them "Contraband of War" – spoils of war so to speak. That means that the Union Army now "owns" the young men the same way as canons and other items taken from the opponent party during warfare. Clear enough, General Cary? But the "Hero in Gray" is furious and even refuses the glass of sherry offered to him by Butler.
Freedom for the Slaves on special conditions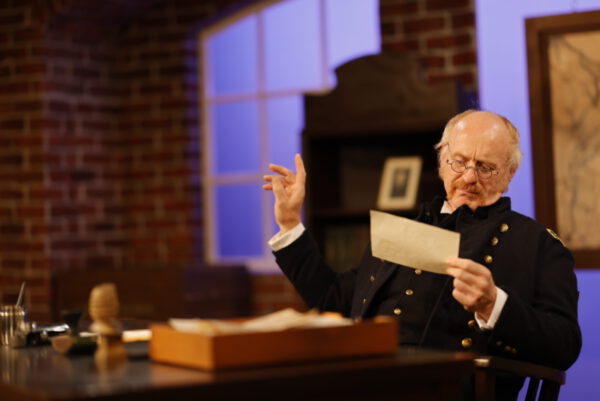 Is Mallory now a free man? In the first place he is "contraband" and can gain freedom when he is willing to build fortifications. But this time for the other side – the Union Army. He is willing to adhere to the rules since he wants the Union to win the war against the Confederate Army. Butler insists that the word "contraband" not go viral. Too late. It has already spread like wildfire. Beside Mallory's wife Fanny another eight slaves claim "contraband." In Butler's office the General, Lieutenant Kelly and Mallory have a glass of sherry. Mallory wants to propose a toast. "To contraband", he joyfully says while Butler and Kelly are raising their glasses.
What a inspiring play! "Ben Butler" contains dramatic as well as hilarious scenes. A play full of facts and funny dialogue. Just think of cheeky Shepard Mallory when he hits General Butler in the face. How dare a slave contradict and slap a white "master?" There is no proof whether this really happened. But it shows the beginning of emancipation of the black slaves who were no longer willing to be kept like underdogs by their owners. Mallory is kind of "black power", struggling against slave owners in America's Deep South. Richard Strand's play is part comedy, part drama and part historical biography. One critic of the New York Times called it "a funny and impressive mixture," whereas Theater Mania describes the play as "simultaneously thought-provoking and side-splitting."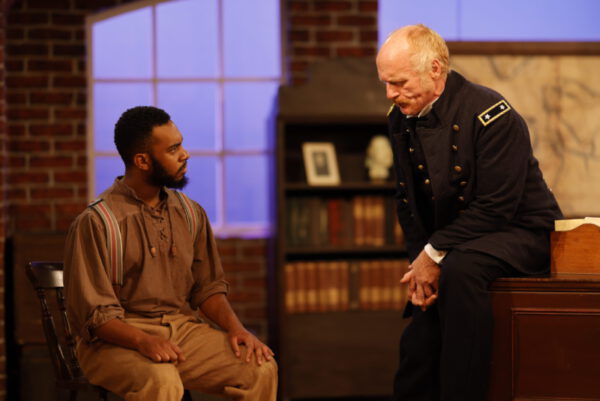 As a matter of fact, Mallory, the "educated" hero of the play, who can read and write, represents a minority within the world of slaves in the universe of the Southern "Gentleman Farmers." They had the right to treat coloured human beings the way they pleased. They could even kill those who ignored their strict rules. No pity with slaves who did not accept illiteracy. Many farmers saw this as a crime. And those who did not respect the rules – the "guilty ones" – were brutally punished. Knowledge is power. And power cannot be granted to slaves. Remember the scars on Mallory's back that he showed Butler when removing his shirt?
At the end of the Civil War all slaves were set free thanks to the victory of the Union Army over the Confederates. A great service to mankind and a beacon of hope for all people in chains worldwide.
Just think of scenes in "Gone with the Wind" where black servants were treated as members of the family. However, at the same time they were patronized by their owners and treated like children in custody. I do confess that I am still a fan of that wonderful movie although I was always aware of the injustice done to the black people. Ashes on my head!
As usual, director Clifford Dean chose four fabulous actors: A big hand for Jonny Magnanti (Ben Butler), Cameron Barclay (Lieutenant Kelly), Hayden Mampasi (Shepard Mallory) and Will Middleton (Major Cary).
Last but not least…
Dear reader, did you know that Ben Butler was a real historical figure?
Just have a look at his vita ( Source: Encyclopedia Britannica)
"Major General Benjamin Butler (1818 – 1893) was a prominent lawyer in the US-State Massachusetts. Here he served two terms in the state legislature and distinguished himself by vigorously supporting the cause of labour and naturalized citizens. Although he was affiliated with the Southern wing of the Democratic Party in the 1860 elections he strongly supported the Union after the American Civil War broke out. He was appointed a Union officer for political reasons, and his military career was mercurial and controversial. In May, 1861, with the rank of major general, he was placed in command of Fort Monroe, Virginia. There he refused to return fugitive slaves to the Confederacy, using the logic that they constituted "contraband of war" – an interpretation later upheld by his government."
A brave man who deserves our deep respect.
Last performance of "Ben Butler" on November 4, 2023. Tickets under phone number 040-227 70 89 or online under www.english.theatre.de
Next premiere: "The Hound of Baskervilles" by Arthur Conan Doyle, on November 20, 2023
Photos: Stefan Kock