"ROSE'S DILEMMA" AT THE ENGLISH THEATRE OF HAMBURG
From Uta Buhr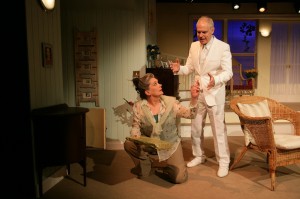 Did Neil Simon really write this play? Up to now we only knew the very worldly and sunny side of his character. However, in his latest Broadway hit the "grand seigneur" of comedy surprises us with kind of a mystery play dealing with love and loyalty that outwit death. Amazing! Just think of witty plays such as "Barefoot in the Park", starring Jane Fonda and Robert Redford, elegant "California Suite", or the enchanting musical "Sweet Charity" with Shirley McLaine in the leading part – only to name a few comedies out of the author's rich work. It seems as if Neil Simon, born in Brooklyn, New York, in 1927 has reached the age of wisdom. Let us hope that America's most popular writer of comedy will continue to cheer us up with some new most entertaining plays in the future.
About the play:
Rose Steiner is a well-known bestselling author in her early sixties – or better – she used to be a successful writer. Until she faces a long-lasting writer's block that started after her lover Walsh McLaren passed away a couple of years ago. Walsh himself wrote one bestseller after the other during his lifetime. Rose being unable to accept her lover's death, sees Walsh and talks to his ghost. In her imagination he is always around her – day and night – dressed up in an immaculate white suit. Her daughter Arlene who lives under Rose's roof, patiently tolerates her mother's eccentricities, but draws a line where it comes to noisy sex with Walsh.  Rose badly needs money to lead a decent life and keep her luxury beach house in New Hampshire. If no fresh money comes in immediately, she risks an existence in poverty. One day Walsh announces that he will leave her and return forever in his "realm of shades." But before going away, he wants to secure her financial future by suggesting that she complete his last unfinished novel with the help of Gavin Clancy, a young hopeful writer who lives in the neighbourhood. But Rose refuses to make money from a book with Walsh's name on it. When Rose's daughter Arlene falls in love with the nice young man, things become really complicated for all parties concerned. However, thanks to Neil Simon's inventiveness and sense of humour the play's happy ending is guaranteed.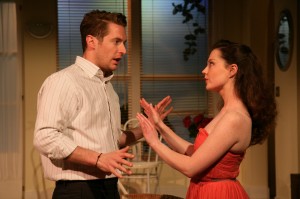 As usual, Robert Rumpf, the director of the English Theatre of Hamburg, has chosen four great actors for "Rose's Dilemma." Victoria Lennox as Rose is a well-known actress boasting a long record of successful appearances on stage and on TV. Young and attractive Laura Murray plays the role of Rose's daughter Arlene, and Tom Rooke acts the part of charming Gavin Clancy. Last but not least, we were pleased to see Stephen von Schreiber again, this time in elegant white and grey outfits giving Rose's ghost and adviser.
Final performance of "Rose's Dilemma": July 2, 2011. For tickets dial phone number 040 – 227 70 89, for more information contact www.englishtheatre.de
We shall keep you posted about the next premiere in early autumn. The new play is not yet known to us.
Photos: H. J. Kock