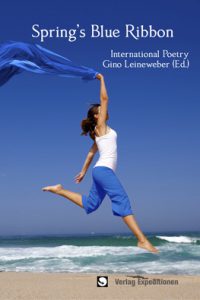 Last Saturday, we had our second poetry reading from the international poetry anthology SPRING'S BLUE RIBBON. 
You can watch this session and the one before on the YouTube playlist
https://www.youtube.com/playlist?list=PLAOcIik3ufSrG3_YdOE_KbNWgrg6Ph6Cm
and also on the Website of the publishing house where you still can find the program:
The link for registration for all of our events, if you didn't register already, is here
https://us02web.zoom.us/meeting/register/tZIsfu2pqDkrE9av_ZG-PNShbmPuqsmqCZXt
Please note you have to do so in advance hence do it as soon as possible. You need for participating at the event the access link that will get on the day of the session with an email
We continue with the third out of five readings next Saturday,
April 2,  2022, 11 pm EDT, 5 pm CEST 
Poets who are reading:
Milica Lilic – Serbia
Elcin Sevgi Sucin – Turkey
Mamta Sagar – India
Padmaja Iyengar-Paddy – India
Don Krieger – USA
Chloe Koutsoumbeli – Greece
Yiorgos Chouliaras – Greece
Luz S. Mejia -Colombia/USA
Every reading will last about an hour and is broadcast on FB-page "Cultivating Voices." After the reading, the participants on the Zoom can stay together for another half hour.